Falklands/Malvinas link of future Argentine foreign minister
Saturday, November 28th 2015 - 05:32 UTC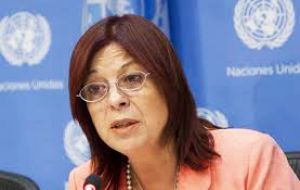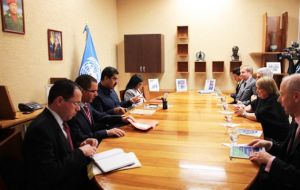 A Falklands/Malvinas link has emerged from the naming of Susana Malcorra as Argentine president-elect Mauricio Macri Foreign minister. According to reports in the Buenos Aires media, UN's Ban Ki-moon Secretary General cabinet chief is not the only outstanding Argentine national working for the UN in particularly sensitive issues such as Disarmament Affairs.
In effect, the current serving Director and Deputy to the High Representative for Disarmament Affairs in the United Nations Office for Disarmament Affairs is Virgina Gamba with an impressive CV in strategy and defense affairs, a close friend of Ms Malcorra, educated in England and Wales, who has also written several books and essays on the Falklands/Malvinas conflict.
Her most renowned book on the conflict, "Signals of war" was coauthored with British historian Lawrence Freedman, who wrote "The official history of the Falklands' campaign: war and diplomacy".
The several editions "Signals of war", according to the Argentine media has been published in various languages and is considered "the most serious and complete book on the conflict".
As a lecturer and associate professor at the Department of War Studies, King's College London 1987-1990 Professor Gamba undertook research on the manner in which crisis prevention could be applied to North-South conflict areas as well as lecturing on Latin American emerging security issues (non military threats to security in The Americas) and author on those years of Strategy in the Southern Seas (Pinter) and the Falklands/Malvinas War as a Model for North/South Crisis Prevention (Harper/Collins).
Professor Gamba is currently investigating the use of chemical weapons by IS y Syria. She was also member of the Pugwash organization for nuclear disarmament which was awarded the Peace Nobel prize in 1985 and as head of the Safer Africa foundation was responsible for the withdrawal of arms in South Africa following the end of civil war and the election of Nelson Mandela.
Ambassador Fulvio Pompeo who has head of international relations for Buenos Aires City during Macri's time as mayor, contacted Gamba at the UN, and through her Ms Malcorra. Gamba was contracted by Macri to organize from scratch Buenos Aires City Metropolitan police when the reorganization of Argentina's security forces.
Regarding Ms Malcorra it must be said that she has a close relation with Cristina Fernandez, they address each other in their first names, Cristina and Susana, and she also helped Argentine diplomacy with the UN General Assembly statement on sovereign debt negotiations. Besides Argentina was lobbying for Ms Malcorra as a possible candidate as next UN Secretary General because the consensus is that it's time the job goes to a woman, and although rotation indicates Asia should propose a name, if no agreement was reached, it would be Latin America's opportunity. Hector Timerman apparently was in New York working on the issue before the election runoff on 22 November and Macri's victory.
Argentine media points out that Susana Malcorra was currently involved in the Venezuela/Guyana territorial dispute, and with her privileged post can pick up the phone and talk to almost any world leader, a most valuable asset for the incoming Macri administration.
Likewise Malcorra belongs to a generation of most capable Argentine women diplomats and negotiators such as Susana Ruiz Cerruti, Elsa Kelly and Beatriz Nofal, with whom she has excellent relations and keeps in contact since they have besides a common professional background, a shared origin in the Radical party which allied with Macri's PRO formed the successful Let's Change coalition. Ms Malcorra joined the Radical party when the return of democracy in 1983 with president Raúl Alfonsín, but rapidly moved to the private sector, IBM, Telecom and later to FAO, to the organization and logistics of UN peace missions and finally cabinet chief of Secretary General Ban Ki-moon.
Apparently Malcorra and Macri knew each other but socially, and when the presidential candidate offered her the job, she asked for time to talk it over with her mother and daughter with whom she lives in New York. Her acceptance occurred last Saturday in a flash flight to Buenos Aires to speak with Argentina's next president.