Falklands based British Forces rescue cruise passenger injured in South Atlantic
Monday, November 30th 2015 - 06:36 UTC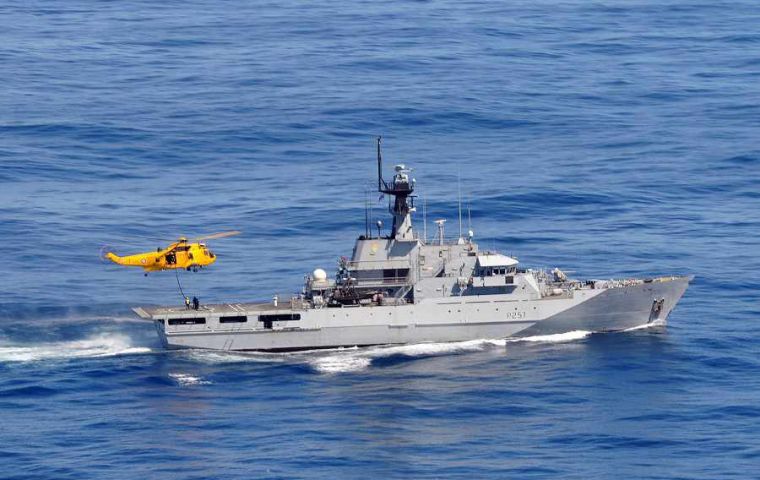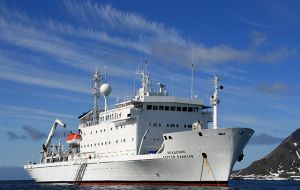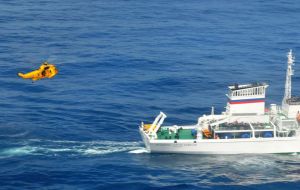 Royal Navy and Royal Air Force personnel based in the Falkland Islands have conducted a long range rescue of a British man from a Russian cruise ship. The MV Akademic Sergei Vavilov was visiting South Georgia, 800 nautical miles to the east of the Falklands, when the man was bitten by what is thought to have been a fur seal at Salisbury Plain Beach.
The casualty was in a serious condition with a major injury to his arm and urgent specialist medical attention was needed.
As the cruise ship headed for Stanley, British Forces launched a rescue mission coordinated from the Joint Headquarters at Mount Pleasant. HMS Clyde sailed at speed to a position 200 nautical miles east of Stanley. Subsequently an RAF Hercules and RAF Search and Rescue helicopter were launched with a British military doctor onboard.
Due to the long distances involved, the helicopter flew to HMS Clyde and refuelled before travelling a further 100 nautical miles to the Akademic Sergei Vavilov. Once the helicopter was in position over the cruise ship, the casualty was winched into the helicopter, which then returned to Stanley.
Commander British Forces South Atlantic Islands, Commodore Darren Bone Royal Navy, said:
"This successful rescue operation, conducted at maximum range from the Falkland Islands, demonstrates very clearly the value and capability of British naval and air forces working together. It also highlights the professionalism and dedication of my people, and comes just a week after British Forces worked with the Falkland Islands Government and others to rescue all 347 passengers and crew from the stricken French cruise ship Le Boreal."
Commodore Bone added, "We all wish the patient well and are delighted that we were able to deliver him to hospital in Stanley over 24 hours earlier than would have been the case had he remained on the ship."