Impeachment battle against Rousseff begins Monday in Congress
Monday, December 7th 2015 - 08:36 UTC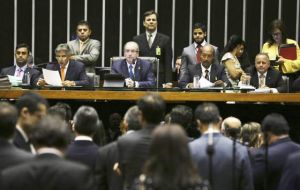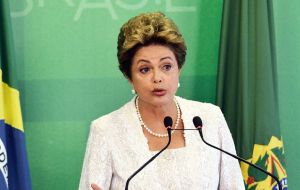 Impeachment proceedings against Brazilian President Dilma Rousseff face their first major hurdle Monday when a special committee forms to decide whether to send the case to the full lower house. Once established, the 65-member committee representing all parties will hear Rousseff's defense, then rule on whether to allow the matter to go further.
The action in Congress kicks off what could be a months-long battle over the leftist president's fate just as the world's seventh largest economy finds itself bogged down in recession and fallout from a giant corruption scandal centered on the state oil company Petrobras.
Rousseff is accused of illegal accounting maneuvers in the government's handling of the federal budget. She has repeatedly said she is not guilty and that the accounting tricks were a long-accepted practice in previous governments.
She calls the movement to oust her "a coup." For now, the presidency believes it has enough support to ride out a vote in Congress.
The lower house would have to vote by more than two thirds for the case to be sent for a formal trial in the Senate, where again a two-thirds majority would be needed to remove Rousseff from office.
However, Rousseff allies want impeachment proceedings to move rapidly, while the opposition is expected to try to stall in order to benefit from popular discontent with Rousseff.
In the meantime, Brazil's economic woes and political gridlock are expected to deepen.
Brazil, host of the 2016 Rio Olympics, is in a deep gloom, with GDP down 4.5% in the third quarter year-on-year, and the national currency down a third against the dollar this year.
Rousseff is also tainted by the Petrobras scandal, which has sucked in leading politicians and business figures, exposing the depth of corruption at the highest levels in Brazil.
The key will be whether her Workers' Party coalition partner the PMDB stays loyal, with speculation rife that cracks are already growing.
But the lawyer who initiated Brazil's last successful impeachment of a president, in 1992, attacked what he said was a politicized and unfair campaign against Rousseff.
Marcello Lavenere, now 77, was an attorney and president of the Brazilian Bar Association when he co-authored a petition for impeachment of then-president Fernando Collor de Mello on grounds that Collor benefited from an influence peddling scheme.
The corruption charges were serious enough for Congress's lower house and Senate to vote overwhelmingly for Collor's ouster, even if he tried to scupper the impeachment trial by resigning.
Lavenere told Folha newspaper that the charges against Rousseff are lightweight in comparison.