A Positive Outlook for the Falklands at FIA's annual general meeting
Tuesday, December 8th 2015 - 09:36 UTC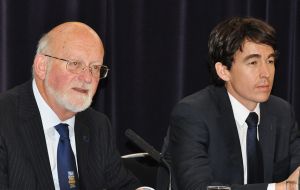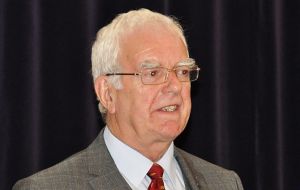 The Falkland Islands have received assurances of sustained support from the British Parliament and from the Falkland Islands Association at that organisation's annual general meeting in London where members were given a positive report of progress and economic development in the Islands.
Association Chairman Alan Huckle, a former governor of the Falklands, expressed the hope that the newly elected Argentine President, Mauricio Macri, would pursue more positive and constructive policies after 12 years of anti-Falklands actions by outgoing President Cristina Fernandez de Kirchner and her husband whom she succeeded. Mr. Macri had already indicated he would tone down the rhetoric and abolish the post of Malvinas Secretary. But Mr. Huckle warned the Association that this did not mean the end of Argentina's claim.
Mr. Huckle pointed out that the British Government has earmarked many millions of pounds in new military hardware and infrastructure to ensure defence.
The treasurer, Islander Mr. James Wallace, reported a healthy bank balance.
Mr. Roger Edwards, a leading member of the Falklands Legislative Assembly, told the AGM that Argentina was the Falklands greatest problem, and recorded delight in the Islands at the election of Mauricio Macri. MLA Edwards thought there would be less negative policies. But he cautioned that it was early days yet, and reminded everyone that the Argentine claim was part of its Constitution.
MLA Edwards described another record season in the squid fisheries, and said that it was encouraging to see young people going in for the traditional agricultural in the Islands. He said that low oil prices were not a problem yet, and might even be advantageous as it reduced the cost of oil exploration, and there was no production yet. He welcomed the fact that so many cruise liners were visiting the Islands, boosting tourism. But he called for more publicity in Britain and Europe for the Falklands' case. He thanked the Association for its continuing support.
Mr. Andrew Rosindell MP, the long-standing Secretary of the All Party Parliamentary Committee on the Falklands, assured the AGM of continuing cross-party support for self-determination. He said "You do have the support of huge numbers of Parliamentarians of all parties in both the Lords and the Commons".
Tributes were paid for the outstanding work of the late Honorary Secretary Colin Wright, who died recently after bravely bearing a long illness.
By Harold Briley and Peter Pepper - London