Welcome Mauricio! But what exactly are your plans?
Friday, December 11th 2015 - 07:24 UTC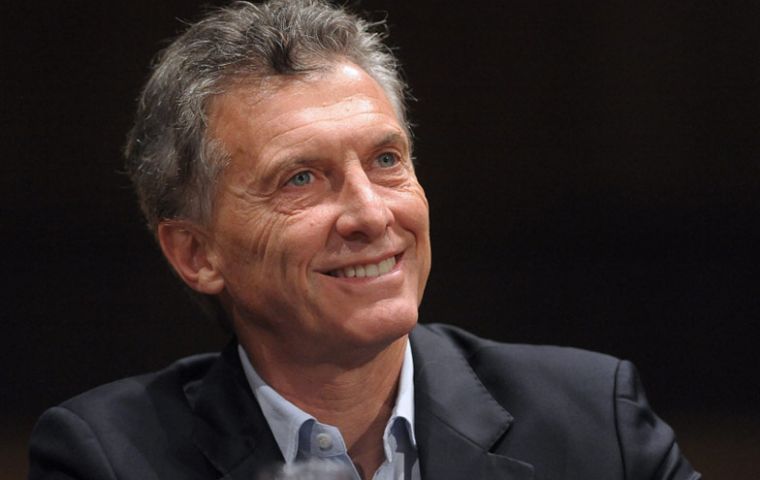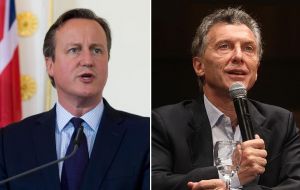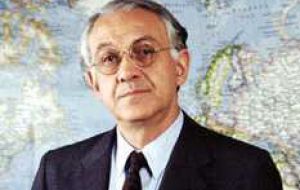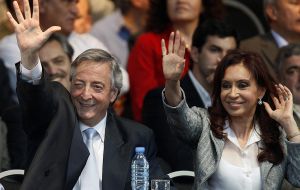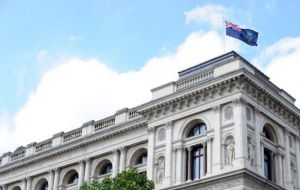 By Graham Bound, London - Mauricio Macri: I roll the syllables of that rather pleasantly alliterative name over my tongue as I draw him into one of my columns for the first time.
All of the Maurice/Mauricios whom I have known have been decent, steady, reliable, pleasant chaps. Whether I will still associate the name with such worthy traits six months or a year from now, I can't say, because Mauricio Macri is, of course, the newly elected centre-right President of Argentina and we await to see what that means for relations between Argentina, the Falklands and the United Kingdom.
I think I am on firm ice, however, when I say that he cannot be worse that his rabidly Falkland-phobic predecessor, Cristina Kirchner. She may well be missed by many of the poorer people of Argentina, whose votes she courted with generous improvements to social services, but she will not be missed by most other sectors of the Argentine electorate, who grew tired of corruption and inflation and by those who care about Argentina's standing in the world.
Many people had good reasons to see the end of the 12-year reign of the Kirchners, but let's just concentrate on what it means to the UK and to the Falklands.
What will it mean for the Falklands?
So far, Mauricio Macri seems like good news. His principal foreign affairs statement since victory was this: "We want to build good relations with all of Latin America and with the world. We want to have good relations with all countries."
The genuineness of this statement appears to have been vindicated by a cordial telephone conversation with David Cameron, during which Mr. Macri said that
he wanted to see improved relations between the two countries.
He would have said this in the full knowledge that the Falklands have become a massive impediment to relations, and if they are to be improved, then he must move Argentine "Malvinas" ambitions to the back burner, if not off the hob altogether.
He might just do this because he had indicated in unguarded statements before he ran for election that disproportionate importance had been placed on the campaign to "recover" the Falklands, and he suggested that if Argentina ever did recover the Islands, they would not be able to do anything meaningful with them (or words to that effect).
So while the new man at the controls will not be able to abandon the sacred Argentine cause, and will never, ever say anything like, "We don't care about recovering the Malvinas anymore," he will probably try to ignore the issue while repairing relations with Britain and the world.
He might - just might - however, take his cue from the government of Carlos Menem and his highly unconventional Canciller (or Foreign Secretary) Guido Di Tella in the late 1990s. They conducted a charm offensive directed at the Falklands and Britain that was unlike any other offensive in history and, from Buenos Aires' point of view, it achieved some success.
If Macri's Falklands policy were to be inspired by Di Tella and Menem, even without replicating its eccentricity, plans to sue oil companies under Argentine law might be abandoned, and he might well begin making noises about sharing fisheries conservation responsibilities. The hostility against ships travelling from Falklands ports to Argentine ports and vice-versa might be relaxed, and he could welcome talks leading to improved air communications twixt the Falklands and Chile (although he would undoubtedly prefer to see links with Argentina).
How should we react
The Falklands' government might find such a sudden thawing in relations difficult to cope with.
There would be some who would say that such normalization is devoutly to be desired, and I think I would be among them. After all, once previously hostile people agree to put their disagreements to one side and talk about matters of mutual interest, then genuine trust and friendship can follow.
But the value of a thaw would really depends how genuine the Argentine side are. If they simply see friendship as a Trojan horse, by which they can get a political foot on the ground in Stanley, then caution must be urged. It is reasonable to assume that at least some Argentine politicians and diplomats will favor the Trojan Horse scenario, and if Mr. Macri finds Argentina's problems difficult to solve and he looks to the "Malvinas" as a useful diversion, he may take that view too.
We should just wait and see. But genuine friendship should not be spurned.
At the same time we should not forget the political dangers that can emerge from London. The dreadful hostility of the Kirchner years has brought the British Government and the Falklands together to create a united front against Argentine ambitions. But that unity may waver in the face of friendship.
In the past the ambitious officials and junior ministers of the Foreign and Commonwealth Office (FCO) have urged the Falklands to "be reasonable" and respond to Argentine gestures with position-weakening concessions of their own.
Much has been written about the disingenuous attitudes of the FCO in the years before 1982, but the FCO behaved similarly in the late 1990s at the height of the Menem-Di Tella charm offensive.
At that time, Falklands councilors were put under huge pressure to break - or at least bend - election promises and agree to a package of concessions to Buenos Aires, including the ending of the ban on Argentine passport holders entering the Islands.
There was great anger in Stanley when this subterfuge was revealed. And that was only a decade and a half ago.
So we need to treat any hand of friendship cautiously. It might be genuine, in which case it should be shaken. It might, however, be holding a list of demands, some of which are worded in suspiciously public school Foreign Office English (PN)