Brazil in recession, but farming is booming with the 29% fall of the Real
Tuesday, December 15th 2015 - 08:36 UTC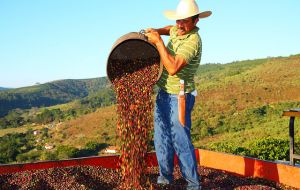 Financial and political turmoil that have Brazil on the brink of a depression is also contributing to one of the best years ever for domestic farmers. Economic stress and a weak currency has facilitated export revenue for everything from soybeans to beef to coffee.
Even as global surpluses spark a commodity slump, the drop in the Brazilian Real against the dollar is so steep that farmers still come out ahead. Agriculture revenue will rise to a sixth straight annual record this year and grow again in 2016, the government predicts.
This positive outlook lives next to Brazil's mess: a sprawling corruption investigation has caused political gridlock in Brasilia, while the budget deficit is swelling. The economy contracted for three straight quarters, the worst since collection of the data began in 1996. Unemployment is growing, and inflation is accelerating. The longest recession since the 1930s is now mutating into "an outright economic depression," Goldman Sachs Group Inc. said on December first.
But agriculture, which accounts for 23% of the economy and 40% of exports, is still flourishing. The local currency Real has tumbled 29% so far this year against the dollar. A strong dollar means more Reais for every ton exported. While soybean futures fell 14% this year in the U.S., touching the lowest since 2009, prices in Reais rose 23%.
Brazil has become the world's largest exporter of soybeans, beef, coffee, sugar and orange juice. With the help of higher domestic prices and export sales, agriculture income will reach a record 487.3 billion Reais ($128 billion) this year and rise 0.2% in 2016 to 488.1 billion Reais, Brazil's Ministry of Agriculture said in November.
Before the Real began its slide, farmers were expected to scale back planting because of poor profit margins and low prices, said Fabio Meneghin, a partner at Florianopolis-based consulting firm Agroconsult. Since July, "the picture has completely changed," with most crops expected to expand, he said.
Farmers now have an incentive to export as much as they can. Brazilian shipments of soybeans, the country's biggest crop, will rise almost 12% to a record 57 million metric tons, the U.S. Department of Agriculture predicts. Farmers are almost done sowing the crop, which will be harvested starting in January. In the U.S., the world's top soy grower, a stronger dollar will lead to a 7% drop in exports from a record the previous year, the agency said.
Meat exporters also are benefiting. Beef-export sales at JBS SA's Mercosul unit rose 9.7% to 2.2 billion Reais in the third quarter from a year ago, as the weaker real more than offset a 11% drop in volumes and lower prices in dollars. Minerva SA reported that third-quarter profit, before some items, surged 56.4% to a record.
The depreciation of the Real hasn't been without its downside. The cost of imports like farm equipment and crop inputs from overseas are now far more expensive.
Sales of tractors and harvesters fell 34% this year to the lowest since 2007 as the government cut subsidized credit and raised interest rates to combat inflation. Deere & Co., the world's largest farm-equipment manufacturer, said Nov. 25 that demand in South America will drop as much as 15% in the year that began in October. Demand for fertilizers slid 6.4% this year, industry data show.