Controversy over Argentine navy recently incorporated Russian sloops
Tuesday, December 15th 2015 - 06:03 UTC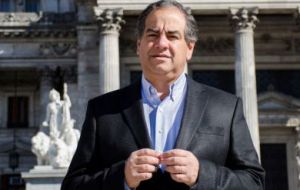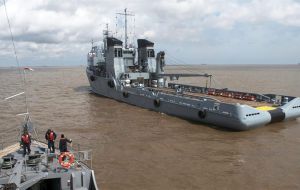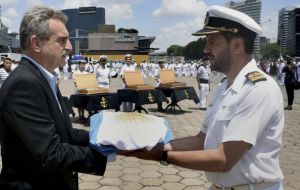 Argentina's Defense minister Julio Martínez has only been in office a few days but he already has a huge challenge on his desk: the four Russian sloops recently arrived in Buenos Aires and which according to the previous administration of Cristina Fernandez cost ten million dollars and are very appropriate for naval patrolling.
They are the same vessels which Martinez as a lawmaker repeatedly objected and demanded from then minister of defense Agustín Rossi a report on their condition, cost and life span, since he considered them inconvenient for their alleged purpose.
Apparently the real cost was closer to 15 million dollars since this included sixty crew members and technical staff from the Argentine navy who travelled twice, in March and in August to check the refurbish of the vessels and to train with sea trials.
"They are not polar or icebreakers, and much less multi-purpose sloops or useful for ocean patrolling. They don't have the speed, they travel at 10 knots compared to the 16/20 knots of any vessel sailing in the South Atlantic. Besides they are not armed and their engines consume too much gasoil", argued Martinez when objecting to former president Cristina Fernandez negotiations with Russia.
One of the first actions as minister is to define, together with the Navy's brass what use will be given to the Russian vessels, since Martinez believes they "are not a good buy".
However, according to La Nacion, the Navy is very pleased with the renewal of the fleet. "The inspections and testing of our engineers and admirals in Russia were satisfactory. They were involved in sea trials and they tried all the equipment. All protocols were complied, the four vessels are commissioned and they sailed to Buenos Aires at an average speed of 12 knots, and any of them can make it to Antarctica. They have a useful life of 25 years", argue Navy sources.
So far they have been named ARA "Estrecho de San Carlos" (Falkland Sound) (A22); ARA "Puerto Argentino" (Port Stanley) (A21); ARA "Islas Malvinas" (Falkland Islands) (A24), and ARA "Bahía Agradable" (Bluff Cove) (A24). Puerto Argentino has been stationed in Puerto Belgrano, a second one to Ushuaia and the remaining two in the River Plate, shared with Uruguay.
When the arrival and formal incorporation ceremony last 5 December in Buenos Aires naval station, former minister Rossi and Navy chief Admiral Gastón Fernando Erice described the vessels as sloops, with polar capacity that will significantly increase the operational capacity of the Argentine navy. "They will render greater security than those vessels they replaced and are more modern and economic to run".
Allegedly the Argentine navy is confident they can be used to tow vessels, sunken submarines, Antarctica logistic missions, activities all along the maritime front and fluvial activities plus sanitary emergency for civilians. Although at first they were presented as appropriate for high seas and fisheries patrolling, in real terms they would help to reinforce "Argentina's presence in the sea".
Lawmaker Martinez had questioned the operational capacity of the vessels given their age, and even when they were intended to replace units from the 1940s, they are built with Russian technology from the eighties and the spares are very difficult or hard to come by in the market.