Falklands: UK company to help construct soldiers' accommodation blocks
Tuesday, December 15th 2015 - 08:09 UTC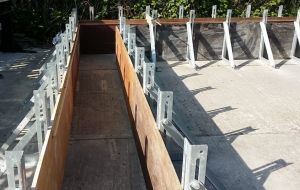 A construction firm from Grimsby, Fast-Form Systems has won a £200,000 contract with the British Ministry of Defense to support the construction of soldiers' accommodation blocks in the Falkland Islands.
Fast-Form Systems was selected by the MoD over a well-established rival because its products provided "ease of use, cost and time savings" and "excellent customer service".
The materials will be used on three accommodation blocks in remote hill top locations.
"We won the MoD contract because we were able to act quickly, and set up a trial and show them how simple and quick our product is to construct", said Tony White founder of the company.
Explaining the process, Mr. White, who has worked in construction for 30 years, first starting fixing steel on Freshney Place's car parks, said: "Generations of contractors have used a very labor-intensive way to form concrete structures, which often presents safety risks and generates excessive waste timber. This just isn't right for today's construction sector as it strives to be more environmentally responsible and prevent dangers on-site, as well as build more efficiently.
"We've developed a way to create concrete formwork and shuttering using re-usable, easy-fix adjustable steel brackets, which are all made and fabricated in Grimsby."
The business has received £700,000 in backing from Finance Yorkshire, the regional funding organization.
He added: "The funding and continued support has enabled us to invest right across the board. As a result, we are winning contracts, hiring more people and developing new products – often bespoke solutions for clients."
Commenting on the contract award, Capt DN Smith, of the Ministry of Defense, said: "After an exhaustive tender process which included a trial of the system against a well-known product, Fast Form was chosen for its ease of use, cost and time savings, and its excellent customer service."