Head of Malvinas Museum, one of Argentina's foremost experts on the issue
Monday, January 4th 2016 - 06:56 UTC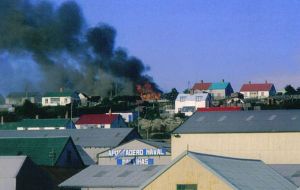 Federico Lorenz, considered one of Argentina's foremost experts on the Falklands/Malvinas Islands issue and author of multiple works on their history, will take the reins as the interim director of the Malvinas Islands Museum in the latest in a far-reaching shuffle of key cultural positions in President Mauricio Macri's new administration.
"I said 'obviously!' of course, because the Malvinas Islands have been my personal and professional obsession for many years now," Lorenz said via his Facebook account, noting how he would put his name forward for the public contest that will pick the director of the museum.
An academic at the University of Buenos Aires, Lorenz is an acclaimed Argentine historian who was also an associate researcher at the National Council of Scientific and Technical Research (CONICET) based in the Dr. Emiliano Ravignani Institute of Argentine and American History prior to his appointment.
"We will be able to have differences of opinion on some points, but I was never sectarian in this regard. I always respected the trajectories and the viewpoints of everyone because I understand that we are a country with very broad and very diverse experiences," he said on his appointment last Thursday.
Lorenz, who authored The Wars for the Malvinas (2009), is regarded by some as a controversial figure in Malvinas Islands lore in that, having previously supported the stalwart line taken by the former governments of President Cristina Fernandez and her late husband Néstor Kirchner, which routinely insisted on Argentina's sovereignty over the Falklands/Malvinas, he became more skeptical of the government's stance after 2008.
Indeed, Lorenz was vocally critical of Cristina Fernandez approach to the prevalent issue from then onwards, which included minting a new 50-peso bill commemorating Argentina's claim to the Islands, and multiple (successful) votes at the United Nations calling on London to enter into sovereignty talks with Argentina over the Falklands.
"Our claim is as archaic as imperialism and we cannot hold that position," he said in an interview with the Buenos Aires Herald last year. "From a rhetorical point of view, we have done what they (UK government) expected: to play the intransigent and aggressive role."
Lorenz said his goal as interim manager of the Malvinas museum would be to help improve knowledge about the Islands and their history.
"I'm going to put all my effort and commitment to the goal for the museum to be one in which we can all contribute to the construction of our relations with Malvinas, with the South Atlantic, and with our history," he said on his appointment.