Suspended FIFA secretary general Jérôme Valcke has been sacked
Thursday, January 14th 2016 - 05:37 UTC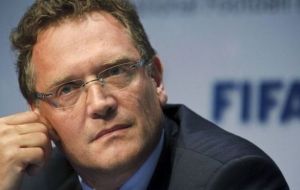 "The FIFA Emergency Committee decided on 9 January 2016 to dismiss Jérôme Valcke from the position of FIFA secretary general with immediate effect. Jérôme Valcke is therefore no longer the secretary general of FIFA," a FIFA statement said on Wednesday.
"The employment relationship between FIFA and Jérôme Valcke has also been terminated." FIFA confirmed that the duties of Valcke's leadership role would continue to be assumed by acting secretary general Markus Kattner.
FIFA investigators last week recommended a nine-year ban from football for the Frenchman for seven alleged ethics violations.
Suspended in September over allegations linking him to a 2014 World Cup ticketing scam, Valcke's provisional 90-day suspension expired Jan. 6 and was extended a further 45 days. Formal adjudicatory proceedings were opened against him by FIFA's top judge Hans-Joachim Eckert who is expected to deliver his verdict in the coming week.
Valcke's provisional ban followed a FIFA ethics probe into allegations the Frenchman was involved in a scheme to sell Brazil 2014 tournament tickets at three times face value and take a cut of the profits. Valcke, 55, denied what he called "fabricated and outrageous accusations".
Alleged code of ethics violations include: general rules of conduct, confidentiality, duty of disclosure, cooperation and reporting, conflicts of interest, offering and accepting gifts and other benefits, and general obligation to collaborate.
Valcke was also under investigation for his involvement in signing off $10 million to FIFA's disgraced former vice president Jack Warner, a transaction that forms part of the US-led FIFA bribery probe. The $10 million was touted as a donation for South Africa's 'Diaspora Legacy Program'.
It's the second time Valcke has been fired by FIFA. He was dismissed in 2006 after a New York judge said the Frenchman, then the federation's marketing chief, had "lied" to potential sponsors VISA and Mastercard who were seeking a World Cup sponsorship deal. Valcke returned to FIFA later that year when he was rehired by Blatter as secretary general.