Falklands' people had "spoken as clearly as they possibly could" and UK will "guarantee that"
Thursday, January 21st 2016 - 01:29 UTC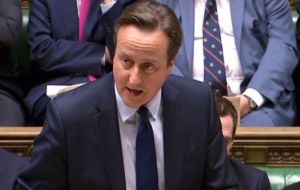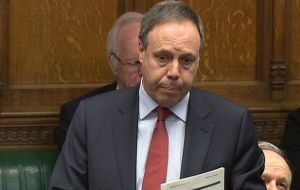 UK Prime Minsiter David Cameron blasted Jeremy Corbyn's comments at Prime Minister's Question confirming his government's full support for the Falkland Islands to decide on their future and develop their economy. At the weekend, the Labour leader claimed it was "ridiculous" the UK was still in dispute with the Argentina over South Atlantic islands, as he demanded "sensible dialogue" over the Islands.
The comments sparked fury among veterans of the 1982 Falklands conflict, as well as from the Islanders themselves. And fellow MPs have now also turned on Mr. Corbyn over his remarks.
Nigel Dodds, the deputy leader of Northern Ireland's Democratic Unionist Party, asked the Prime Minister to reaffirm his backing for Falklands residents to "have a right to determine their own future".
Speaking in the House of Commons during Prime Minister's Questions, the Belfast North MP said: "Will the Prime Minister reiterate the unconditional and unequivocal support of the British people for the people of the Falkland Islands to their inalienable and British-held right to self-determination?"
He also urged Mr Cameron to confirm "that will not be undermined in any way by some kind of accommodation or some kind of negotiations in which the people of the Falkland Islands may have an enormous say but have no veto"
In reply, the Prime Minister said the Falklands people had "spoken as clearly as they possibly could" in a referendum as recently as March 2013, in which 99.8% of inhabitants voted to remain a British overseas territory.
He added: "As long as they want that, they have that guarantee from me.
"I find it quite extraordinary that the Labour Party now want to look at trying to change the status and give away something people absolutely consider to be their right and that will not happen as long as I'm in Downing Street."