"Labour party supports Falkland Islanders self determination, including defense of the Islands"
Thursday, January 21st 2016 - 01:20 UTC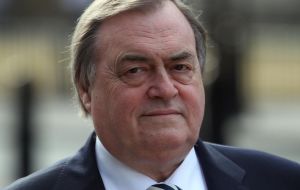 "We are committed to upholding the right of the Falkland Islanders to self determination, including by ensuring the defense of the Islands", was the reply from a Labour Party spokesperson to the Falkland Islands Radio service, in Stanley following Jeremy Corbyn's controversial statements at the BBC 1 Andrew Marr show last Sunday.
Besides arguing that UK's key line of defense, the Trident nuke powered submarines should continue to patrol waters but without warheads, Labor leader Jeremy Corbyn stated it was 'ridiculous' to continue the dispute with Argentina over Falklands sovereignty, and demanded a 'sensible dialogue' over the Islands future.
"There has to be a discussion about how we can bring about some reasonable accommodation with Argentina. It seems to me ridiculous that in the 21st Century we could get into some enormous conflict with Argentina about the Islands just off it".
As to the Falkland Islanders, Corbyn told Marr that: "They've got the right to stay where they are, they have got a right to decide on their own future and that will be part of it", but then asked if Islanders should have a right to veto, he added "let's have that discussion and let's not say agendas in advance."
But according to FIRS a Labour Party spokesperson, said: "Labour Party policy remains that the people of the Falkland Islands have the right to determine their own future. In the 2013 referendum, the overwhelming consensus was in favour of remaining British. We are committed to upholding the right of the Falkland Islanders to self-determination, including by ensuring the defence of the Islands."
The controversial incident also triggered reactions from the Labor party with Lord Prescott calling the interview with Jeremy Corbyn on the BBC flagship show a 'disgrace' and accused the presenter of pandering to the wishes of right wing newspapers.
The former Labour deputy prime minister accused the show's presenter Andrew Marr of asking hypothetical questions about past issues in order to generate headlines for newspapers.
However Rob Burley, the editor of the show, has since tweeted to point out the Labour leader's team and Jeremy Corbyn believed that the questions were fair.
Lord Prescott wrote: "Here's someone who is leading the debate by putting housing, social justice and equality right at the heart of our politics. And how did Marr respond?
By asking questions to get answers he hopes will be in tomorrow's Daily Mail.
"Why did he ask about Flying Pickets and the Falkland Islands? Are these really the big issues of today? Forget Deutschland '83 - today's Corbyn interview was more Marr '82. Jeremy has started a debate about what kind of country we want to live in and what our priorities should be.
"All journalists should recognize the public wants to hear what Labour's policies are for today. Not hypothetical positions on the issues of yesterday. So please can TV interviewers put the interests of the public first, not those of newspaper editors. If Marr wants to make headlines in the Daily Mail he should go and join them."