New governor for St Helena, Ascension Island and Tristan da Cunha
Friday, January 22nd 2016 - 07:32 UTC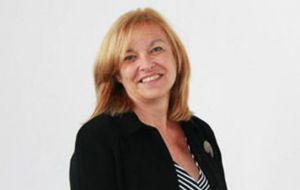 Lisa Phillips is to succeed Mark Capes as Governor of St Helena, Ascension Island and Tristan da Cunha in April 2016.
Lisa Phillips has been appointed Governor of St Helena and non-resident Governor of Ascension Island and Tristan da Cunha in succession to Mark Capes, who will be transferring to another Diplomatic Service appointment. Lisa will take up her appointment in St Helena during April 2016.
If all works as scheduled Ms Phillips could become the first governor to fly to St Helena to the recently finished airport.
According to her curriculum, Ms Phillips was working as head of the DIFID Office in Kenya since 2013, and held several others posts in the same Department since 2009, and before that with similar responsibilities in development offices of emerging economies and from the Commonwealth.