Argentina now denies dengue outbreak is an 'epidemic'.
Saturday, January 23rd 2016 - 08:28 UTC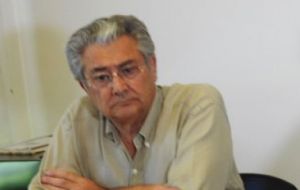 Even as the number of new cases of dengue fever continued to rise in Argentina, the Health Ministry performed a rapid about-face and disavowed a statement made on Wednesday that the outbreak constituted "an epidemic."
During an interview on Radio 10, the Argentine Health Ministry's Epidemiology Director Jorge San Juan refuted Health Minister Jorge Lemus' statement earlier in the week that there was "an epidemic" of dengue fever in the most severely affected provinces of Misiones and Formosa in the tropical north east of the country.
"There is no such gravity," in the current situation, he said, highlighting the number of confirmed cases of the disease which remained at just over 1,100 for the entire country.
San Juan pointed out that current outbreak was no more severe in its development than in previous years, with the present stage of the virus remaining stable — there has not been reports of evolution of the disease into the more severe strains of the virus, such as dengue hemorrhagic fever or dengue shock syndrome, which can both be life-threatening.
Nonetheless, the current rise in dengue cases over recent weeks classifies the outbreak as the worst to hit Argentina since 2009, when a total of 27,943 were infected and five people died.
Seven new cases were confirmed in Buenos Aires City on Thursday.