Parlasur could invite Falklanders', but first Macri must cracks the "chavista axis"
Wednesday, January 27th 2016 - 06:42 UTC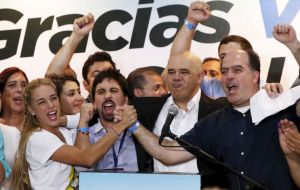 The Argentine representation in the Mercosur parliament, Parlasur, is considering inviting a group of 'kelpers' Falklands/Malvinas lawmakers, 'to listen to their needs and promote cooperation, but in the framework of Argentina's unrenounceable sovereignty claim over the Islands'.
"They will not be invited as self-proclaimed British subjects but rather on humanitarian reasons to find out about their needs", said Alberto Asseff a member of Parlasur who responds to Sergio Massa, virtually in coalition with president Mauricio Macri.
However before such an invitation takes place, much has to happen. To begin with the Macri-Massa representatives must remove as president of Parlasur, former foreign minister Jorge Taiana, who responds to the opposition, led by former president Cristina Fernandez.
In effect according to the alphabetical rotation, in 2016, Argentina holds the speaker's seat in Parlasur, following on Venezuela's turn which was last year. However the former Venezuelan chavista majority in the parliament, following the 6 December defeat, means all Venezuelan representatives belong to the anti-chavista opposition, and with their support, the pro Macri delegates want to remove Jorge Taiana who was voted in last October, with pro-chavista support.
Parlasur is mostly symbolic, it can vote resolutions and recommendations but besides that has no other influence be it not for the international contacts and paid expenses. In November despite protests from the Macri "Let's change" coalition chavista Saul Ortega handed the chair to Taiana.
But allegedly Macri who has campaigned for the freedom of Venezuelan political prisoners wants to crack the so called 'chavista axis' which was made up mainly of Cristina Fernandez, Uruguay's Jose Mujica and Venezuela. Now however, Argentina is Macri, Venezuela's national assembly has an overwhelming anti-Chavez majority, and in Uruguay, President Tabaré Vazquez only expresses lip-service for Maduro and chavistas, and meantime implements a decisively pro-west foreign policy.
Likewise Paraguay can't stand Venezuelan president Nicolas Maduro and his chavista gang and Brazil is too complicated to be concerned about Parlasur intrigues.
Argentine foreign minister Susana Malcorra has excellent relations with the Venezuelan opposition, mainly those followers of Leopoldo Lopez the most notorious of all political prisoners in Venezuela.
Parlasur's which seats in Montevideo, will be holding its next session next March, with apparently sufficient time to prepare for the removal of Taiana, who by the way is calling for an extraordinary meeting to address the issue of Milagro Sala, a radical Kirchnerite grass roots leader who was elected to Parlasur and so far has not taken office because she is jailed in her province, Jujuy, for allegedly organizing riots, promoting violence and calling for ignoring provincial decrees.
The governor of Jujuy, a Macri ally says he has a good corruption case against Ms. Sala for mismanagement of funds, or handouts to the poor which is her political grass roots support in the impoverished northern Argentine province next to Bolivia.
The Argentine Parlasur representation includes 43 seats, evenly divided but keeping Ms Salas out remains essential. The job has fallen on Jorge Vanossi a constitutional expert and lawmaker Asseff who is ready to question Ms Sala's right to inauguration oath while under investigation for corruption.
It was Asseff who follows closely Falklands' issues and considers himself an expert, who added that following the 'good meeting' between Macri and PM David Cameron it's only natural that we should invite the 'kelpers' to listen to what they have to say, their needs and in a humanitarian cooperation spirit".
Apparently Taiana and Malcorra have had a "not too polite" exchange of letters on the issue of Ms. Sala, but the foreign minister replied "her ministry does not have influence over the crimes allegedly committed by the political leader".
And to make things even more uncomfortable, Emilio Monzó speaker of the Argentine congress Lower House has decided that the 43 Argentine Parlasur lawmakers should for the moment have no meeting place in Buenos Aires or worse even, budget.