Lula and wife summoned to testify as suspects into money-laundering scheme
Monday, February 1st 2016 - 05:34 UTC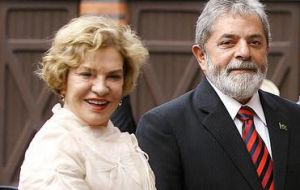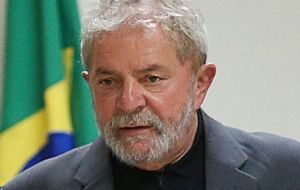 Brazil's Attorney General's Office of Sao Paulo summoned former socialist president Luiz Inácio Lula da Silva to testify as a suspect in a investigation into money-laundering in the latest phase of the ongoing Petrobras corruption scandal.
Attorney General Casio Conserino has summoned Lula and his wife Marisa Leticia Lula da Silva to testify on February 17, to investigate whether the former leader owns an apartment in a resort in Guaruja that was not declared, which may be linked to alleged money-laundering.
It is the first time that the former Brazilian president has been called to testify as a suspect. Until now Lula has only given evidence as a witness.
Former president of the construction company OAS, José Adelmário Pinheiro, was also called to give evidence. OAS is just one of the companies involved in the huge corruption scandal surrounding the state-run oil company Petrobras, in which up to 50 politicians are being investigated.
Lula has previously denied that he bought an apartment in the Solaris complex when the case first became public over a year ago, but did admit that his wife, Marisa Leticia acquired a stake in 2009 with a view to possible acquisition.
However, Lula said that the works in the building had fallen behind schedule and that OAS had offered to refund the money to those people that had invested money but not yet taken up the option to buy. He added that this money still hadn't been given back.
The Lula Institute, the former president's NGO, issued a statement in which it reported that "to have the apartment of fact and law, one is required to pay the difference between participation and the value of the property," something Lula's family has not done so far.
Lula has defended himself against speculation suggesting his alleged involvement in the Petrobras corruption scheme and even said that "there is no more honest living soul alive" in Brazil than him.
Lula's legacy has been tarnished by the corruption scandal ensnaring key aides and associates in his Workers' Party and adding to the political crisis that threatens to unseat his handpicked successor, President Dilma Rousseff.