LAN celebrating 70 years of air connectivity with Punta Arenas
Tuesday, February 16th 2016 - 07:14 UTC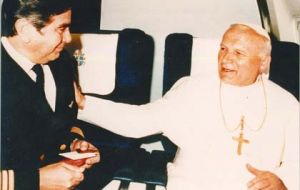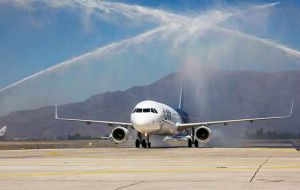 Chile's flag carrier Lan is celebrating this week the seven decades of its first commercial flight between Santiago and Punta Arenas, extreme south of the country, opening the region to closer trade, tourism and investment opportunities. Actually Lan in the thirties and forties, when the company was first starting did in effect make regional flights from Punta Arenas to nearby places mostly on rough landing strips.

However it was in mid February 1946 that Lan's maiden flight between the capital Santiago and Punta Arenas took place, and a year later, January 1947, the regular commercial link was started.

"We're proud of the seven decades we have shared with the Magallanes Region in helping its economic development through air connectivity. It has been seventy years in which the people of Punta Arenas have made dreams come true, showing the rest of Chile and the world the enormous tourism richness that this region has to offer, making it one of the main tourism destinations of the country", Gonzalo Undurraga, General Manager Chile of the LATAM group said at the celebration.

The evolution of Lan flights has been parallel to the region's development: in 1964 Magallanes and the airline celebrated three weekly flights Santiago-Punta Arenas, and currently that number has ballooned to 46 on average, 70% of them direct links, only ten years ago all flights had calls.

Furthermore in the last ten years, 3.7 million passengers have flown between Santiago and Punta Arenas, a number that has jumped 150% during that period, from 189.000 pax in 2005 to 469.000 pax in 2015. Likewise with the increase in traffic the price of fares in the direct links in low season, have been dropping significantly.

Some of Lan milestones in Punta Arenas.

In 1987, Lan transported Pope John Paul II in his visit to Punta Arenas.

In July 1997, the first flight to the Falkland Islands.

In July 2010, Lan officially supported the Winter carnival in Punta Arenas, which continues.

October 2011, Lan joins the Magallanes Rehabilitation Workshop, support which continues.

In 2013, Lan launches the program One Day with Lan in the Extreme South, taking over 120 children from Magallanes on their first flight, a program that has been going on for three years.

November 2013 Lan Punta Arenas helps with local public works in the city; likewise in 2014 and in 2015 remodeling access to Puerto Natales.

In 2014, Lan receives its first Airbus A321, the largest of the A320 family, for domestic flights including Punta Arenas.

In January this year, Lan Cargo was part of the first export of live sheep from Magallanes to Ecuador; an operation involving 2.000 rams and ewes of the best Magallanes stock.