Falklands' oil industry continues to advance, despite current low prices
Thursday, February 18th 2016 - 06:19 UTC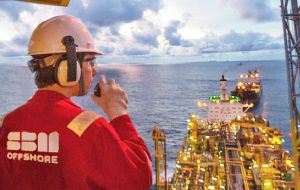 Despite current low oil prices, the oil and gas industry in the Falkland Islands is continuing to go from strength to strength as its first project, Premier Oil's Sea Lion, moves closer to commercialization, according to an analyst with research and consulting firm GlobalData.
Adrian Lara, GlobalData's Senior Upstream Analyst covering the Americas, says that governmental changes in Argentina add to the favorable conditions supporting the Falkland Islands' industry's advance towards its first oil.
"During the previous Kirchner administration, the government discourse was one of sovereignty dispute. Companies operating in the territory were denied access to participating in Argentina. International oil companies with significant operating assets in Argentina, such as Total or Chevron, avoided damaging their working relationship with the government", said Lara.
"In April 2015, a federal judge ordered the seizure of assets of companies drilling in the territory including Premier Oil, Rockhopper Exploration, Falkland Oil and Gas Ltd, Noble Energy and Edison International Spa. The new Argentine government has indicated a clear position of enacting market-friendly reforms including rolling back regulations, re-accessing international financial markets and encouraging foreign direct investment."
While only 15% of the total available blocks in the Falkland Islands have been awarded, farming into existing licenses has been the primary strategy for participation in the basin. With an extensive list of prospects identified in licensed blocks, farm-ins will continue to be the main entry tactic for new companies.
The analyst adds that the current landscape supports maturing existing prospects rather than developing new opportunities, with Sea Lion the most successful discovery in the region maturing towards commercial viability to date.
"The development strategy presented for Sea Lion is through use of a Floating Production Storage and Offloading vessel (FPSO), which adds flexibility and for which leasing costs have halved".
The front-end engineering and design for the FPSO has been awarded to SBM Offshore.
"GlobalData estimates a rate of return of 8% under a flat US$40 oil price, and a breakeven price of US$36.85. Under the assumption of an escalating oil price, returning to US$60 in 10 years, the rate of return improves to 15%."
The analyst concludes that while development in the Falklands will not carry the publicity of the recent Liza discovery in Guyana by ExxonMobil, the sector is moving forward at a steady pace and first oil is expected at Sea Lion within the decade.