"Cordial" (frosty) 22 minutes meeting between Francis and president Macri
Monday, February 29th 2016 - 06:58 UTC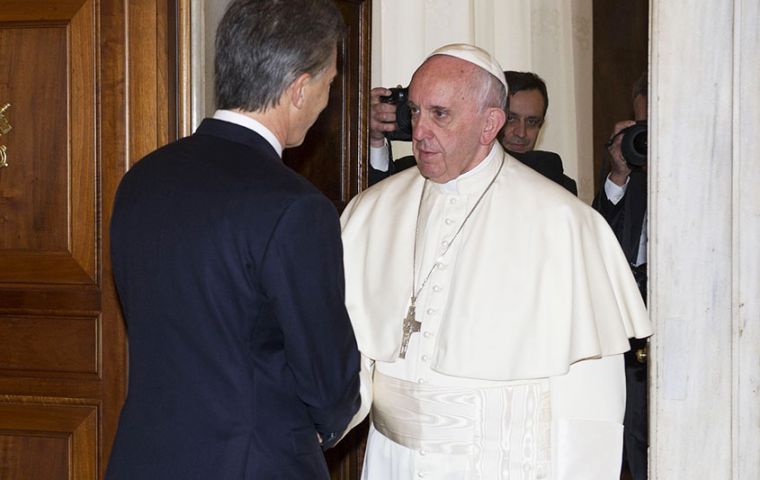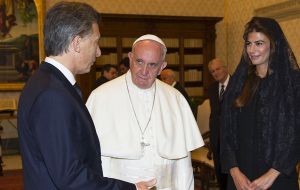 The long-awaited meeting between Argentine President Mauricio Macri and Pope Francis ended up being a frosty encounter that lasted a mere 22 minutes. The Vatican officially described the sit-down as "cordial," and Macri told reporters that the pontiff asked him to fight corruption, poverty and drug-trafficking in the country.
Although the new president has already managed to get lots of photo-ops with several foreign leaders, the pictures he took with the head of the Catholic Church were much more serious, making evident the lack of affinity between the two political leaders — a stark contrast from the warmer relationship Francis used to enjoy with Macri's predecessor, Cristina Fernández.
Francis entered at 9.37am (5.37am in Argentina) Saturday. "Good morning, Mr. President. How are you are doing," he told Macri, who answered: "How are you doing, Francis? Pleased to see you." That was the icebreaker of a meeting that was not marked by either laughter nor jokes between the two powerful Argentines.
A statement issued by the Holy See noted the two talked about human rights, peace and social justice, and the Church's contribution to national society, "especially to the younger generations."
Macri is also not returning to Argentina without the promise of a long-awaited papal visit. According to the president, Jorge Bergoglio is not planning to visit Buenos Aires this year. "He told me he will do it as soon as possible," he said.
Macri arrived in Rome with his wife, Juliana Awada, and accompanied by several officials, including Cabinet Chief Marcos Peña and Foreign Minister Susana Malcorra. The president gave Francis a crucifix and a poncho along with several CDs. The Holy See thanked the president for the presents in the same press release.
Media reported that Francis also gave Macri a present: a medal depicting a two-branched olive tree, saying it symbolizes unity when "something in the middle doesn't work."
Macri said that during the meeting he told the pope about his interest "of uniting Argentines and leaving behind old rancor," he reported. According to the president, the pontiff also told him to tackle problems such as corruption and drug-trafficking, two of the issues placed in the spotlight by the administration since the centre-right president took office in December.
"It was just like when we used to meet when we were both opposite Plaza de Mayo and I was the BA City mayor and he used to welcome me at the BA City Metropolitan Cathedral," Macri said.
After meeting Francis, Macri sat down with Italian prime minister Matteo Renzi. According to Strategic Affairs Secretary Fulvio Pompeo, Renzi congratulated Macri on the progress made in the negotiations with holdout creditors and even suggested that it would be a good idea that the country host the 2018 G20 summit. The Italian prime minister visited Buenos Aires less than two weeks ago.