UK ambassador to Argentina, Mark Kent, takes office next July
Wednesday, March 2nd 2016 - 07:41 UTC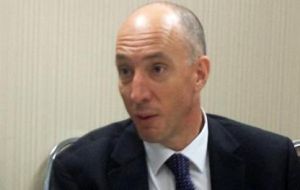 Mark Andrew Geoffrey Kent, currently ambassador in Thailand has been appointed British ambassador in Argentina, in succession of Dr. John Freeman, who will be transferring to another diplomatic service appointment. Mr. Kent is expected to take his new job during July this year.
According to Mr. Kent's CV, he is married to Martine Delogne and has two children. He has been in Bangkok since 2012 and before that spent two years in language training.
From 2007 to 2010 he served as Ambassador in Hanoi, Vietnam. Mr. Kent also was Deputy Director of Migration from 2005 to 2007, and in 2004/05 International Affairs advisor to the Supreme Allied Commander, Europe in Belgium.
The future ambassador in Argentina experience in Latin America is limited to 2000/04 where he was Commercial Counselor and Consul General in Mexico City, and before that as Second Secretary (Press and Political) from 1989 to 1993 in Brasilia.
Mr. Kent joined the Foreign Office in 1987, and from 1998 to 2000 was the FCO spokesman covering Middle East and the Kosovo conflict.