Montevideo/Falklands/Malvinas air link is "viable", says ex Uruguayan president
Monday, March 7th 2016 - 04:26 UTC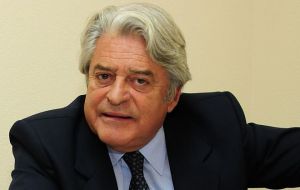 Uruguay's former president Luis Lacalle Herrera said that an air bridge between Montevideo and the Falklands/Malvinas Islands is 'viable' and was optimistic about such an opportunity in the near future.

Interviewed by a local radio in Montevideo, Lacalle Herrera said that "it is so viable that during my time in government, we approved an airline and air link to the Islands, but finally it was not able to take off".

"I hope the Argentines don't get angry about what I'm saying because it is not intelligent to get angry", added the Uruguayan president (1990/1995) who recently visited the Falklands invited by the Islands' elected government.

Lacalle Herrera insisted that the opinion of the Falkland Islanders must be respected, "the opinion of the Islanders must be heard", these opinions "must be put in the context" of the sovereignty dispute between Argentina and the UK.

The ex president, as is official Uruguayan policy, supports the Argentine sovereignty claim over the Falklands/Malvinas but believes in re/launching the close and traditional links of the Islands with the port of Montevideo, and strongly rejects any form of impediment to improve Uruguayan relations with the Islanders.