Malcorra in Bolivia holds talks on energy, drug trafficking, science development and South Atlantic Islands
Tuesday, March 8th 2016 - 07:30 UTC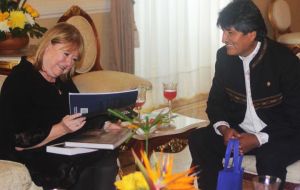 Issues related to energy, drug trafficking and border controls, science and technology development, plus support for the South Atlantic Islands and adjoining maritime spaces claim, were among the main issues addressed by Argentina's foreign minister Susana Malcorra during her visit to Bolivia where she met president Evo Morales and her peer David Choquehuanca Cespedes.
We talked about specific issues such as improving border passes and monitoring given the significance of the fight against drugs trafficking, energy matters and scientific and technological integration since we are already working in a nuclear medicine project, which is of particular interest of President Morales" said Ms Malcorra.
Following private talks with Morales at the presidential palace Malcorra added that peace prevails in the region and "this is of great pride for all of us, but we still have much to do so that all our citizens in this part of the world enjoy the jobs, healthcare and education opportunities they deserve".
Likewise Malcorra met with her peer, Choquehuanca Cespedes, with whom they addressed the main issues of the bilateral agenda, plus underlining the close and long standing relations between Argentina and Bolivia. The two ministers also talked about regional and global issues, reaffirming the coincidences and the determination to continue working jointly.
Malcorra also made it a point to thank the Bolivian government and people for their ongoing firm support of Argentina's sovereignty claim over the Malvinas, South Georgia and South Sandwich Islands and their surrounding maritime spaces.
Finally another issue was Bolivia's candidacy to occupy the rotating chair of CELAC in 2017, and agreed that state members must find a consensus on the aspiration from La Paz. Celac stands for Community of Latin American and Caribbean states, one of several regional organizations which were planned to remove the OAS, Organization of American States as the leading grouping of the region.
At the end of the meeting Malcorra, in a brief ceremony, was awarded the Condor of the Andes, Great Cross, one of the highest honors from Bolivia.
Bolivia has an abundance of natural gas and its main clients are Brazil and Argentina (in volume order), but it repeatedly has discussions on price and payments.