Senior judges concerned about Lula's arrest but admit "evidence is very serious"
Tuesday, March 8th 2016 - 14:29 UTC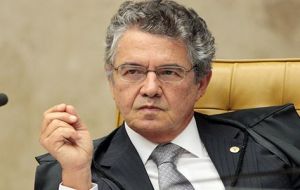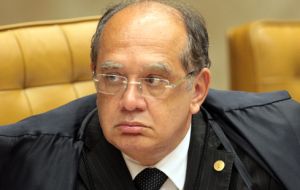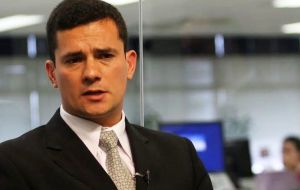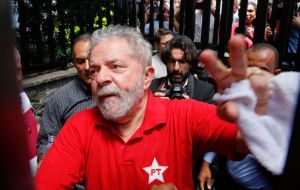 Senior judges in Brazil voiced concern over the detention of former President Lula da Silva, even as they threw their support behind the sweeping corruption investigation that threatens to topple his embattled successor. Lula's three hours of questioning in police custody on Friday was the highest profile development in the two-year probe focused on state oil firm Petrobras.
The brief detention of 70-year-old Lula, Brazil's first working-class president and a hero to millions of Brazilians shocked many in the country. His 2003-2010 government helped lift an estimated 40 million Brazilians out of poverty and raised the nation's international profile.
Supporters and opponents of the former union leader clashed outside his home on the outskirts of Sao Paulo after he was detained by police early on Friday. There were also noisy protests outside the police offices where he was questioned.
Supreme Court Justice Marco Aurélio Mello told CBN Radio that "nothing justified the use of force" when police picked up Lula unannounced from his apartment.
Even Justice Gilmar Mendes, who has publicly said there is strong evidence the ruling Workers' Party (PT) used graft proceeds to fund electoral campaigns, called Lula's interrogation in police custody a "delicate" situation in O Estado de Sao Paulo newspaper.
The federal judge who ordered Lula to be brought in for questioning, Sergio Moro, said in a statement that steps were taken to protect Lula's image during the operation, and he expressed regret that it sparked violence.
"This doesn't necessarily mean he is guilty," he added.
Speaking to his supporters at PT headquarters in Sao Paulo after being released on Friday, Lula said that investigators were "disrespectful of democracy" and abusing their authority. He has repeatedly denied any wrongdoing either while in office or since.
Before Friday, some analysts had questioned whether the crackdown on graft could be at risk of fizzling out after the justice minister stepped down amid a barrage of criticism from the ruling PT over the investigation.
But Supreme Court justices were unambiguous in support for prosecutors pursuing their investigations into Brazil's biggest-ever corruption scandal.
Justice Rosa Weber late on Friday rejected a request by Lula's lawyers to suspend investigations into real estate assets and the ex-president's institute, which police allege he and his family likely used to launder money stolen from Petrobras.
Even Justice Mello, who was critical of Lula's arrest, said the evidence uncovered by prosecutors was "very serious" and deserved further investigation.