Falklands' sovereignty statements, "an unnecessary provocation" says Argentine ambassador
Friday, March 11th 2016 - 05:41 UTC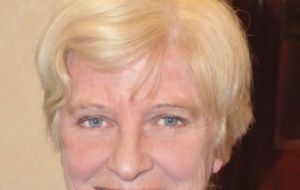 The private visit to Paraguay of Falkland Islands lawmaker Phyllis Rendell and her strong statements regarding sovereignty and the future of the Islands had an immediate reaction from the Argentine ambassador in Asunción Eduardo Zuain, who described the statements as an unnecessary provocation.
"The visit of the lady, a British tourist represents an unnecessary provocation particularly when Argentina wants to negotiate, wants to dialogue. The British tourist came to talk about war, about violence, not us. Argentina will not talk about war or violence. President (Mauricio) Macri has been very clear that dialogue is the way forward", said ambassador Zuain, a professional diplomat and former deputy foreign minister under Cristina Fernandez, in reply to statements from Ms Rendell in the Paraguayan media.
On Monday evening during a cocktail in her honor at the British embassy in Asunción, Phyllis Rendell, elected member of the Falklands' Legislative Assembly, openly stated that the South Atlantic islands, which are claimed by Argentina, are British, and the Islanders have British citizenship as Scot and Welsh nationals.
MLA Rendell went further and said that the sovereignty issue was settled over thirty years ago, in clear reference to the 1982 war that followed the military invasion of the Falklands by Argentine forces.
"We will not discuss the sovereignty issue, not with the government of (president) Macri, or anybody else for that matter. The sovereignty issue was settled and there is no room for discussions, it's British sovereignty. Sovereignty was settled in a war following the military invasion of the Islands by Argentina, the issue is over and gone" insisted the elected lawmaker from the Falklands.
Ambassador replied arguing that the "British tourist" had come to talk about war and violence, and Argentina is only interested in dialogue as the way forward.
The official recalled that Argentina does not recognize the Falklands' Legislative Assembly "since it's illegitimate, because the territory belongs to Argentina. I'm not saying this on my own, it's what United Nations, Latin America and the rest of the world are saying. Nobody recognizes them"
Likewise ambassador Zuain thanked the Paraguayan government and people for their standing support of Argentina's sovereignty claim over the Malvinas and underlined that "negotiations are with London and not with the Islanders. Argentina want to settle the issue through diplomatic negotiation and peace"
The former deputy minister insisted that for the Macri administration the Islands "are a territorial dispute since they were taken by force during an invasion by English forces in the 1830s. It is undoubtedly a clear case of colonialism".
Finally ambassador Zuain pointed out that the United Nations have characterized the Falklands/Malvinas Islands as a "colonial territory", and insisted that Argentina is open to respect the way of life of the Islanders, "let's not forget that 30.000 British citizens live in Argentina with no problem at all"