Falklands: Mar del Plata bishop blesses "Identity Crossing" swimmers, and 250 rosaries
Sunday, March 13th 2016 - 22:27 UTC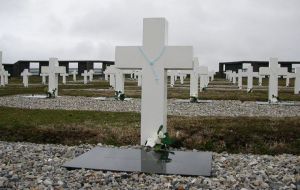 Mar del Plata bishop Monsignor Antonio Marino met with the swimmers that are planning to cross the Falklands' sound, or "Identity Crossing", and blessed rosaries they will be taking to the Argentine memorial in Darwin.
Bishop Marino following the blessing of 250 rosaries, described the announced crossing and visit to the Argentine cemetery as "an act of justice".
The swimmers are amateur and have been training for when they dive into the Falklands' sound, which separates the West from the East islands, and their purpose is to promote the "DNA Project" from the foundation "Do not forget" which sponsors the identification of the 123 Argentine soldiers' remains buried in the cemetery at Darwin.
"As a bishop I receive with great pleasure and love this initiative, it's an honor to bless you in your mission and to bless the rosaries which will rest in the crosses of those graves. I also take this opportunity as an act of recognition towards all those brothers, whom in their youth did the maximum sacrifice, representing us", said Bishop Marino.
"They deserve all the honor and standing memory. I reiterate my congratulations, my blessings and my love which is also extensive to their families. That those graves begin talking from the moment they recover their identities. It's an act of justice with our brothers".
The swimmers met at the bishopric together with Julio Aro, president of the "Do not forget" foundation, a local councilor and a Silvia Ponzo, who runs a workshop, "Skillful Hands", which looks after handicapped children who crafted the rosaries.
The foundation was responsible for obtaining 119 family and 83 direct relative blood samples (mothers, fathers, brothers) to help create the first genetics bank of next of kin from Malvinas war fallen.
"This is in anticipation for when the conditions are agreed to visit the Islands and identify the remains of the soldiers killed in the 1982 conflict and buried in the Argentine memorial" said Aro.
"It's all ready on our side, we are only waiting for the political decisions to travel and begin with the identification of our 123 brothers buried with a gravestone which reads 'Argentine soldier known only by God'"