Fed cautious on global economy uncertainties leaves rates unchanged: markets react positively
Friday, March 18th 2016 - 05:49 UTC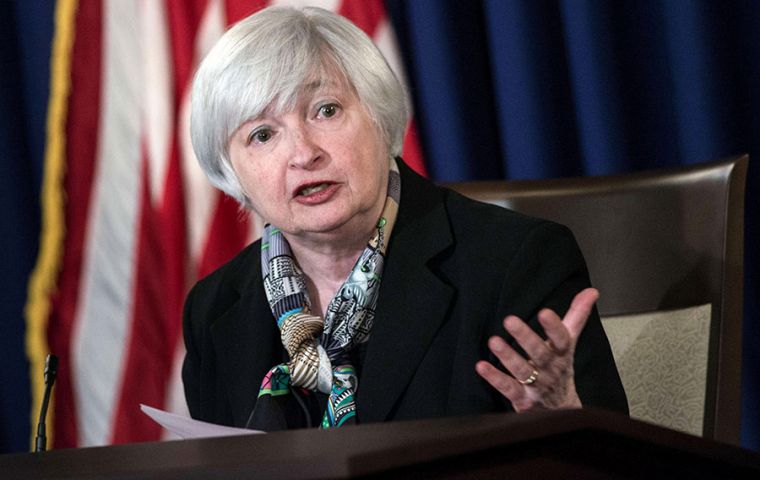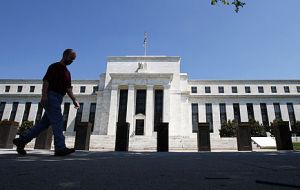 US markets rose on Wednesday, following the decision by the Federal Reserve to keep interest rates unchanged and a statement indicating the rate would only rise twice in 2016. The Dow Jones industrial average climbed 79.64 points to 17,331.17. The S&P 500 gained 11.68 points to 2,027.61, while the tech-focused Nasdaq index was up 35.30 at 4,763.97.
"Proceeding cautiously will allow us to verify that the labor market is continue to strength given the economic risk from abroad," said the Chairman of the Federal Reserve, Janet Yellen.
The decision led the value of the dollar to fall 0.79% against the pound and 1.04% against the euro.
Caterpillar- the maker of construction equipment- was one of the day's biggest winners, rising 2.6%. Tech companies had a strong day. Microsoft shares climbed 1.4% and Apple rose 1.3%.
Before the markets opened, new inflation figures from the Commerce Department showed that the consumer price index (CPI) fell 0.2% in February, led by a sharp fall in energy prices. But core CPI, which strips out food and energy, rose 0.3%.
The Fed indicated moderate US economic growth and "strong job gains" would allow it to tighten policy this year with fresh projections showing policymakers expected two quarter-point hikes by the year's end, half the number seen in December.
But the US central bank noted the United States continues to face risks from an uncertain global economy. Because of that uncertainty, "the committee judged it prudent to maintain the current policy stance at this meeting," Fed Chair Janet Yellen said.
"I am wary and have not yet concluded that we have seen a significant uptick that will be lasting," Yellen said in a press conference following the conclusion of a two-day policy meeting.
Overall, "you have seen a shift in most participants' path of policy. That largely reflects a somewhat slower projected path for global growth," Yellen said. "The U.S. economy has been very resilient in the face of shocks ... That is important."
Interest rates will move higher if the Fed's baseline forecast proves accurate, she added, "but proceeding cautiously will allow us to verify" that the economic recovery remains on track.
In its policy statement, the Fed noted the risks still emanating from overseas, which Yellen said included renewed signs of weakness in Japan and Europe, and the ongoing slowdown in China.
Kansas City Federal Reserve Bank President Esther George dissented in favor of raising rates at this week's meeting. Others have argued that the global situation remains too fragile to push ahead with monetary tightening.