Ex FIFA Blatter was paid US$ 3.76 million and Valcke US% 2.2 million in 2015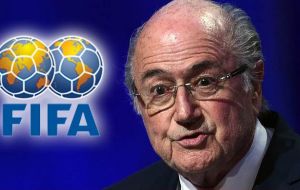 FIFA peeled back another layer of secrecy this week as football's governing body revealed for the first time how much money it was paying disgraced former president Sepp Blatter. The former FIFA chief, who was suspended with pay in October 2015 and later banned for unethical conduct, made $3.76 million last year. He did not earn a performance bonus but did pocket almost $450,000 for reaching 40 years of service at FIFA.
Blatter's right-hand man, secretary general Jerome Valcke, got $2.2 million in 2015. He was relieved of his duties in September and was fired in January for multiple counts of breaching FIFA's ethics code. He was banned from football for 12 years in February.
Every executive committee member was paid $300,000 with Issa Hayatou of Cameroon earning an additional $500,000 as the chair of the finance committee.
The scandals have hit FIFA hard when it comes to the organization's bottom line. The governing body reported a loss of $122 million for 2015, the first time since 2002 that FIFA has lost money.
Despite a lack of new sponsorship money, FIFA still posted a total income of $1.152 billion last year. But that was more than offset by expenses of $1.274 billion. FIFA also spent $61.5 million on what was called "legal matters," almost twice as much as in 2014. A significant amount was spent on lawyers to manage the corruption scandal that engulfed FIFA in 2015.
FIFA's reserves fund fell by $183 million to $1.34 billion.
FIFA agreed to start revealing executives' pay as part of reforms passed at its Extraordinary Congress last month.
Meanwhile Blatter has made good on his plans to appeal his ban from football. The Court of Arbitration for Sport confirmed on Thursday that Blatter "seeks the annulment of the decision taken by the FIFA Appeal Committee in which he was suspended from all football-related activities at national and international level for six years."
FIFA banned Blatter and former UEFA president Michel Platini following a probe into the "disloyal" payment the disgraced former FIFA chief made to Platini for advisory work carried out between 1998 and 2002.
Both Blatter and Platini saw their eight-year bans from world football reduced to just six years each by the FIFA appeals committee in February. Platini appealed his ban to CAS earlier this month.