Macri visit to China in September: the strategic relation with Beijing stands, says Argentine ambassador
Monday, March 28th 2016 - 05:47 UTC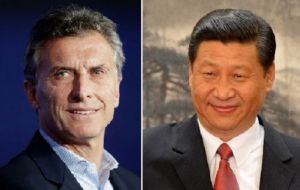 Argentine ambassador to Beijing Diego Guelar confirmed a meeting between President Mauricio Macri and his Chinese counterpart Xi Jinping next April first on the margins of the Nuclear Security Summit that begins next week in Washington and anticipated an official visit to China by Macri in September.
"Macri will be paying an official visit to Beijing in September" announced Guelar who also pointed out the Asian economic giant has an "ambitious investment program" for Argentina.
The program according to the ambassador covers specially "the provinces" of Argentina, considering Buenos Aires-Beijing ties "fundamental." He downplayed Beijing's alleged discomfort with repeated statements from Macri calling for a review of all "treaties signed with China", involving billions of dollars in undisclosed documents.
Queried about the criticism of the strategic relation built with China during the administration of Cristina Fernández, Guelar said the opposition sectors he was part of by then "were in disagreement with the way the government handled itself, not with the agreements (reached) with China," and said the Kirchnerite government operated "outside the embassy."
"Relations have to go through the embassy and that did not happen. Only when we got to the government we had the basic information about what was happening" underlined Guelar.
Ex president Cristina Fernandez in her eight years in government met several times with Chinese leaders, and they also visited Buenos Aires. The Chinese central bank with swaps helped Argentina overcome the worst moments of its hard currency shortage.
Finally the Argentine ambassador said that "the world recession is affecting China but its growth continuous to be extraordinary," which is positive for Argentina since they are interested in continuing with the strategic relation and investing in the country.