Argentina and China reaffirm strategic relation and agree to review contracts
Saturday, April 2nd 2016 - 08:07 UTC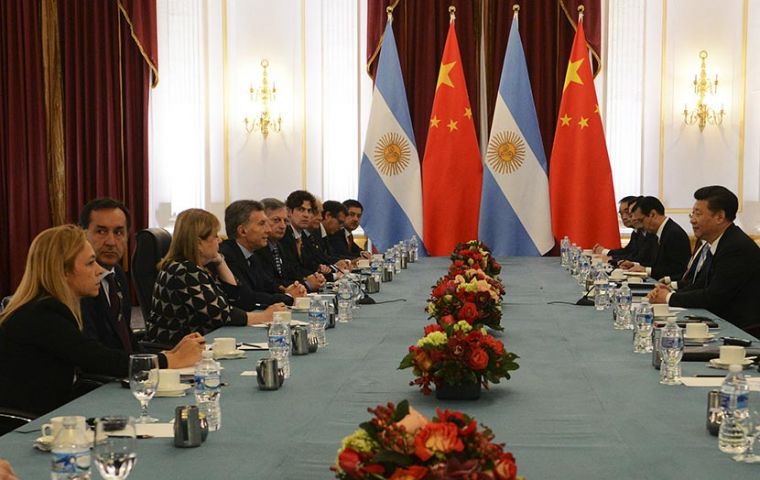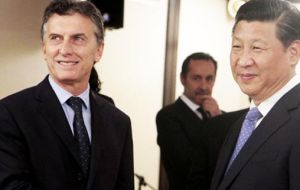 China has agreed to review contracts signed with Argentina, which need modifications, for the sake of transparency, according to Buenos Aires sources, but the overall strategic relation between the two countries and a raft of accords in different fields stands and is expected to continue to grow.
Argentine president Mauricio Macri and China's Xi Jinping met on Friday in Washington in the sidelines of the nuclear security summit and with ministerial attendance overcame what was interpreted as a potential misunderstanding since the new administration of Macri did not have complete access to some of the accords signed with his predecessor Cristina Fernández.
"We're in a new era" and from that point of view contracts signed under the previous administration will be reviewed, said Macri speaking to the media following the meeting with the Beijing officials.
Foreign minister Susana Malcorra confirmed that "China accepted the review of contracts" as suggested by president Macri particularly those referred to hydroelectric and nuclear power plants since "it's best for both sides to be transparent".
However Macri made it a point to thank president Xi for "all the financial support and investments" in the different fields but also asked for a greater equilibrium in the "bilateral trade balance".
Malcorra explained that while Argentina exports to China mainly commodities, with little added value, the world's second economy "send us trains, turbines, machinery, industrial equipment".
In the last two years of the Cristina Fernandez administration a several billion dollars' swaps program with the Chinese central bank helped Argentina to hold on to its scarce international reserves.
Argentina and China signed in 2015 agreements for the construction of two nuclear powered plants, and two hydroelectric dams in Santa Cruz, involving 15bn dollars of which Beijing promised to commit 85% of the financing. As part of the deal China was granted by Argentina a satellite tracking station in Neuquen, and will turn fishing jetties in Caleta Oliva, also in Santa Cruz, South Atlantic into a major port for handling international cargo.
Xi said that China attaches great importance to the development of China-Argentina relations, adding Beijing is willing to work for greater development in bilateral relations.
"The two countries should fully tap their cooperation potential and expand cooperation in such areas as agriculture, infrastructure construction, finance, energy, mining industry and telecommunications" said the Chinese.
The two sides should expand their exchanges in a host of areas such as culture, education, science and technology, youth and sports, he added.
Finally he called on Argentina to enhance cooperation with China in international affairs, and thanked Buenos Aires for its support to have China host the G20 Summit this year in its eastern city of Hangzhou.
Macri in his first day at the summit in Washington held a round of talks with Canada's Justin Trudeau and New Zealand's John Key, and was scheduled to hold meetings with heads of state from Japan, India, South Korea.
From China, Argentine ambassador Diego Guelar said that the contract review modifications are 'reasonable', because of the lack of transparency from the previous (Cristina Fernandez) government , and "there was no transition and we found the State quite deteriorated, and this is rather a consultation round with our great partner".
Ambassador Guelar praised the ''the integral strategic association" with China and revealed that currently there's an investment package of US$30bn, much of it implemented or ready for implementation, which "is more that the US and Europe put together".