Ex Transport Secretary involves Nestor and Cristina Kirchner in purchase of out of service trains
Wednesday, April 6th 2016 - 08:19 UTC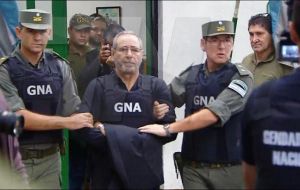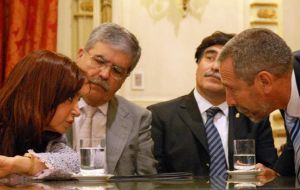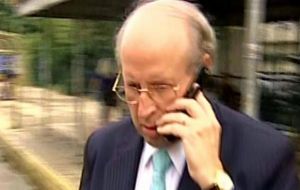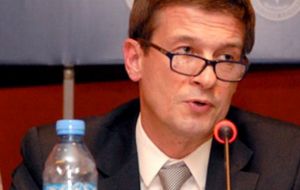 Discouraging week for the Kirchner family and followers, despite the fact that he name of their main political enemy, Mauricio Macri, has cropped up in the Panama Papers. Not only Lazaro Baez, the dominant public works contractor in Santa Cruz province, and believed to be a straw man for the Kirchner family has been arrested and faces questioning on a money laundering investigation, but also former Transport Secretary Ricardo Jaime implicated the Kirchner couple and a former minister in a multimillion purchase of damaged railway materials.

Jaime who has already been prosecuted for other crimes, gave a long list of high profile names as the spoke before Federal Judge Julián Ercolini on the operation involving second hand carriages and engines from Spain and Portugal back in 2006.

Former Federal Planning minister De Vido and Argentina's two previous presidents, Nestor Kirchner and Cristina Fernandez gave him "direct orders" to authorize the irregular purchase of non-operational carriages and engines in 2006, Jaime said, as he defended himself against allegations of wrongdoing in court.

"I followed orders from the Pink House (Government House), first from Néstor Kirchner and then from Cristina Kirchner," Jaime told Ercolini, private news agency DyN reported after a hearing that lasted almost two hours.

The former Kirchnerite official, who has been held under arrest since last Saturday, gave his testimony at Buenos Aires main courthouse.

While Jaime acknowledged that the railway cars were out of service at the time of purchase, he recalled that De Vido had praised the deal made with European governments because it would "allow for the repairs to be made in Argentina."

But the ex Transport official refused to give any specific answers about what mechanisms were used to carry out the purchases, and instead continued to reply that it was a "political decision" made by his superiors.

Jaime dismissed Judge Ercolini's order to arrest him over the weekend as the magistrate considered him to be a flight risk.

"This wasn't necessary because I've always been available ... and I already bought a ticket to travel from Córdoba to Buenos Aires," Jaime said. The former official was scheduled to attend multiple hearings this week.

Jaime is accused of embezzlement, and if convicted of the charge he could face a 10-year prison sentence.

Judge Ercolini decided to call De Vido to court for questioning later this month, allegedly 21 April. "De Vido signed off on a contract and continued to support the enormous economic losses that the state suffered because of the deal," Ercolini's citation request read.

Federal Judge Claudio Bonadío also decided to call De Vido for questioning, taking into account his connection to the 2012 Once railway crash that killed 51 people. Last year, Jaime was convicted for mismanaging public funds and for his criminal responsibility in the Once tragedy.

The other detainee, Jaime's former adviser Manuel Vázquez, declared his innocence and refused to answer any questions.

Vázquez, an official of the Transport Secretariat during Jaime's tenure, also recognized that the railway carriages purchased in Spain and Portugal were out of service.

Meanwhile, Jaime's defense attorney, Andrés Marutián, requested judicial authorities to allow his client to remain overnight in the Border Guard prison cell because he has two more hearings to attend this week. His attorney also criticized the arrest of Jaime over the weekend, arguing that there were political and media interests behind it.

"There are people who are known for acting slowly and all of a sudden they start to act quickly, there must be some motivation behind this, and it could be political or a media interest," his defense attorney said.