Infantino 'dismayed' with doubts about his integrity referred to Panama Papers; 'sad day for journalism'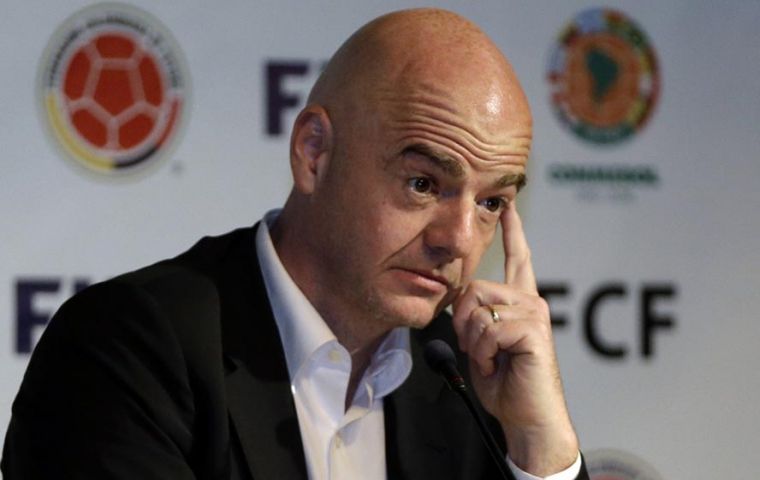 FIFA's Gianni Infantino says he is "dismayed" that his integrity is being doubted after he was revealed to have signed off a TV rights contract with two businessmen who were later indicted in the U.S. for bribery in FIFA's corruption scandal.
The Panama Papers show that Infantino's signature appeared on the 2006 contract with a company in Argentina, Cross Trading, owned by Hugo Jinkis, an offshore company registered in the tiny Pacific island of Niue. Infantino was then UEFA's director of legal services when European football's governing body sold the rights for broadcasting its club competitions in South America.
Jinkis and his son Mariano sold the rights on for nearly three times the price to Ecuadorian TV broadcaster Teleamazonas for $311,170, according to the documents which are among 11 million leaked from Panamanian law firm Mossack Fonseca this week.
The pair were embroiled in the FIFA corruption and bribery scandal which erupted in May 2015. They are alleged by U.S. authorities to have paid millions of dollars in bribes to South American football officials in exchange for cheap broadcasting rights that they could then sell on for significant profit.
While the documents, shared with the International Consortium of Investigative Journalists, do not suggest Infantino received a kickback or was guilty of any wrongdoing regarding the 2006 contract, the TV contract's links to the two men implicated in the FIFA scandal is hugely embarrassing to the new FIFA boss. It also raises questions about the way UEFA conducted the sale of other TV rights in South America and elsewhere. In 2015, UEFA denied doing any business with the 14 people, including Jinkis, first indicted by the FBI and US justice department in its ongoing probe into FIFA corruption.
"I am dismayed and will not accept that my integrity is being doubted by certain areas of the media, especially given that UEFA has already disclosed in detail all facts regarding these contracts," said Infantino, who secured a shock victory in the Feb. 26 FIFA presidential election.
"From the moment I was made aware of the latest media enquiries on the matter, I immediately contacted UEFA to seek clarity. I did this because I am no longer with UEFA, and it is they who exclusively possess all contractual information relating to this query. In the meantime, UEFA has announced that it has been conducting a review of its numerous commercial contracts and has answered extensively all media questions related to these specific contracts."
Infantino said he had never personally dealt with Cross Trading nor their owners as the tender process was conducted by Team Marketing on behalf of UEFA. "I would like to state for the record that neither UEFA nor I have ever been contacted by any authorities in relation to these particular contracts. There is no indication whatsoever for any wrongdoings from neither UEFA nor myself in this matter."
UEFA put out a lengthy statement, expressing dismay about media stories suggesting there might have been "untoward or improper conduct" in connection with a TV rights contract.
"These explanations have been conveyed to the media in a clear, reasonable, and perfectly transparent way. It is therefore all the more regrettable that, despite the explanations given, some sections of the media have chosen to misrepresent matters and mislead the public by suggesting or implying otherwise," UEFA said.
After a full review of its commercial contracts including the 2006 TV contract in Ecuador, UEFA said the rights in question were awarded after an open tender conducted by TEAM Marketing, acting on behalf of UEFA. "The rights were awarded to Teleamazonas/Cross Trading because they made the highest offer on the market," it said.
"Neither UEFA nor Gianni Infantino have ever been contacted by any authorities in connection with this particular contract."
UEFA sought to defend Infantino's reputation, saying he had been "an outstanding member of UEFA staff for many years, a man who has always acted with complete professionalism and integrity".
Blasting media, UEFA said "this attempted slur on his character and on the reputation of UEFA, based on absolutely no evidence whatsoever, is not only a sad day for football but also a sad day for journalism".