Career diplomat Kralikas named head of Malvinas Islands Under Secretary
Tuesday, April 12th 2016 - 21:56 UTC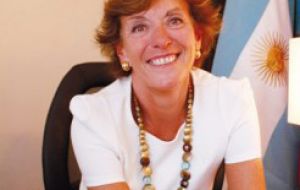 Career diplomat Maria Teresa Kralikas has been nominated head of the Malvinas Islands Under Secretary in the Argentine Foreign Ministry. Ms Kralikas is a lawyer and until now was one of the ministry's Under Secretariats.
The official will be in charge of Argentina's sovereignty demand over the disputed Falklands/Malvinas Islands, according to Decree 566/2016, published last week in the Official Gazette signed by president Mauricio Macri and minister Susana Malcorra.
Ms Kralikas has held posts in the Argentine embassies in Portugal, Colombia, Ecuador and Chile as well as with the Permanent Mission before OAS, Washington, and in the Environment affairs office at the ministry.
According to Decree 565, the Argentine government replaced Ms Kralikas with Gustavo Rodolfo Zlauvinen, who until now was director of International Organisms.
Under the previous government of president Cristina Fernández, Malvinas affairs was elevated and ranked as a full Secretary, and charge of Argentina's claims over Malvinas, other South Atlantic islands and the surrounding maritime spaces. The Secretariat was created in December 2013 with Daniel Filmus as its first and only Secretary. Filmus is a former Education Minister, and ex Senator (2007/2013) who was unable to be reelected as lawmaker in representation of Buenos Aires City.