Cristina Fernandez back on stage; attacks Macri and his policies and the Judiciary
Thursday, April 14th 2016 - 02:50 UTC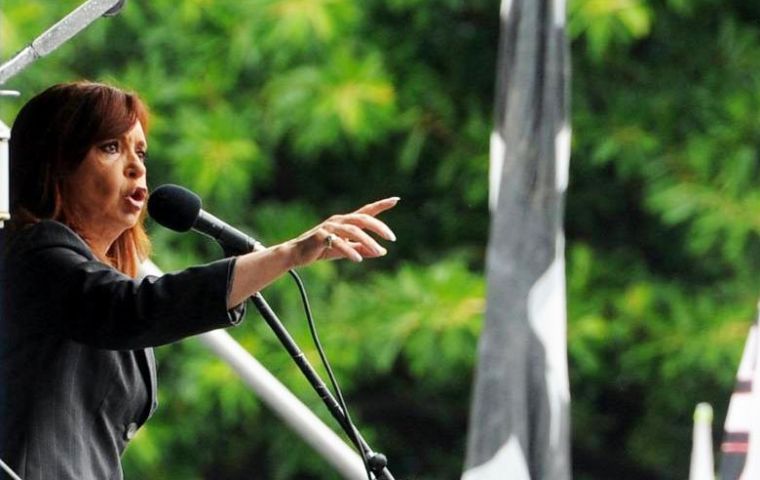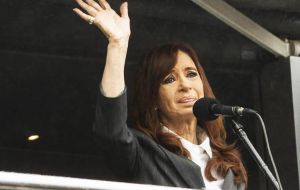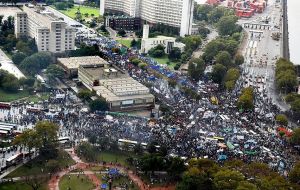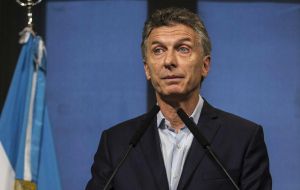 Argentine ex president Cristina Fernández addressed thousands of militants that rallied outside Buenos Aires City main courthouse building where earlier in the day she testifies on the dollar future probe conducted by a Federal Judge.
"They can put me in prison, but they can't silence me," said Cristina Fernández on Wednesday to a jubilant crowd that had waited most of the morning in the rain. Her hour-long speech, the first in public since she left office last December, included sharp criticism of president Mauricio Macri and the judicial investigations she is now facing.
"They kept saying that I would have some public title so as to have protection (from prosecution), but I don't need that, I have the protection given to me by the people in two consecutive elections" said the former president from a stage that was set at the front of the courthouse.
"Don't see this as an attack against a person; let's think together, remembering the history, and you will see this is not the only case in which a former president is persecuted," she said. "If they could prohibit the letter 'K,' they would do it."
In another part of her message Cristina Fernández referred to the Panama Papers leak that revealed President Macri's alleged offshore dealings.
"It is true that they wanted to expose us to the world, they have, to all the covers of international newspapers except for the newspapers in Argentina."
"This is a government that does not take care of Argentineans. We have industries in crisis, closing businesses, hikes in public services that people can't do without," she said questioning the economic policies carried out by the Macri administration.
"I have never seen so many disasters in only 120 days," Cristina Kirchner said. "There are people who are really convinced that with these ideas we are heading to good port," she stated.
"I have kept a democratic and respectful silence, respecting popular will, but it is the government that said it was not going to devalue that must respect it most."
Cristina Fernandez called Argentineans to shape up a "citizen front" in which people "ask themselves" if they are doing "better or worse." "The point of unity must be the lost rights, or the lost happiness," she said.
"Argentineans are living a time of anxiety; I want people to be happy again, free again. I don't want a social leader like Milagro Sola to be jailed without knowing what she is accused of. With regards to me, don't worry. You know that I have voluntarily and explicitly resigned to having privileges. I don't need them. I have the privileges of the people."
Earlier in the day Cristina Fernández showed up at the courthouse to be questioned by Federal Judge Claudio Bonadio in the investigation into the sale of dollar futures. The former president did not answer questions and presented a written statement in which she accused the administration of Mauricio Macri of "creating" a case against her, seeking to "deprive" her of her "liberty".
Minutes before entering Judge Bonadio's office, Cristina Fernandez released a copy of the written statement in her Facebook and Twitter accounts.
"Every time a Political Movement of National and Popular nature was toppled or ended its term, authorities that followed systematically use the disqualification of their leaders, accusing them of committing serious crimes, always linked to the abuse of power, generalized corruption and ill-gotten money," the text reads.
"However, the true reasons were always the same. On one side, to clear out the conquests that were achieved and the rights that were acquired by society in its different classes and activities; on the other, to impose adjustment and indebtedness programs – indissoluble marriage -, using alleged corruption to hide both objectives. As years go by, each of these alleged 'moralizing processes' turned into enormous income and patrimony transfers from the majorities to the ruling elites and their economic groups, coming to the light the outrageous mechanisms of corruption to make those policies operational."
In another part of the statement she targeted Judge Bonadio and the government. "This hypothesis of illicit association, built trickily by the magistrate, is another show of the arbitrariness they have acted with and reveals also the intention of the Government with the indispensable cooperation of the Judicial Power to set a criminal case against me that deprives me of my liberty."
"I am not afraid of you," Cristina Fernandez said. "Facing this process and any other they want to create; it was a decision publicly explicated to have no privileges that would have put me in a position of privilege in relation to any other citizen. Equality was never to me a rhetorical resource."
The La Cámpora Kirchnerite youth grouping, the Grandmothers and Mothers of Plaza de Mayo human rights groups and the Túpac Amaru activist organization were some of the groups attending Wednesday's demonstration. Some former members and officials of her administration also attended: ex Defense minister Agustín Rossi and ex Malvinas Affairs secretary Daniel Filmus; likewise Lower House caucus head Héctor Recalde, Senator Juan Manuel Abal Medina and a group of Buenos Aires City legislators
President Macri has been unable to ignore the issue and told reporters that it was his predecessor's right to be received and accompanied by supporters in this stage of her political life.
"It's in her right to have this type of reception, we hope that everything that happens occurs as it is supposed to," Macri said in a press conference in Quilmes. He also affirmed his confidence in the Argentine Judicial branch.