First commercial airliner lands in St Helena: new chapter of opportunities for the BOT island in mid Atlantic
Tuesday, April 19th 2016 - 22:42 UTC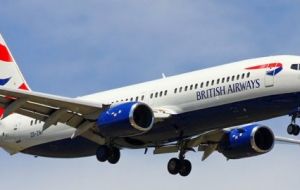 The British Overseas Territory St Helena in mid Atlantic made history on Monday as the first large passenger jet aircraft, a Boeing 737-800 (ZS-ZWG), touched down at St Helena's new Airport shortly after 12.00 noon. This is the actual Boeing aircraft which will serve the St Helena/Johannesburg rout, according to a release from the local government.
As planned, British Airways (operated by Comair) brought in this 'Implementation Flight' from OR Tambo International Airport in Johannesburg, complete with various Comair, Basil Read and other passengers - plus a consignment of aircraft spare parts which will remain on the Island.
In preparation for the commencement of scheduled air services, the objectives of the Implementation Flight include route assessment, airside operations, passenger and cargo handling, training and various aspects of safety at St Helena Airport. It is planned that the aircraft will make a few flights over the next two days, before the Implementation Flight departs St Helena on Wednesday afternoon 20 April.
Martin Louw, Operations Director for Comair, said on arrival that "the flight itself was a 'non-event' - beautiful over the sea with a fantastic view of the Island coming into land. As you will have seen we did a few practice approaches just to make sure we understood the approach - safety is always paramount."
The airport which will open the isolated St Helena to the world is a dream come true for the St Helenians who until now only had a monthly sea link with South Africa. The project took off in November 2011, when the St Helena Government signed a Design, Build and Operate (DBO) contract with Basil Read (Pty) Ltd. The contract included £201.5 million for the design and construction of the airport, an additional amount - of up to - £10 million on shared risk contingency and £35.1 million for ten years of operation.
The project providing air services to St Helena, fulfills the UK Government's commitment to maintaining access to the Island, and provide it with a real opportunity for economic growth through tourism. Both the St Helena Government and the UK Government hope that this will lead to eventual financial self-sustainability for St Helena.