Spectacular Argentine return to money markets: bond issue subscribed several times
Tuesday, April 19th 2016 - 08:47 UTC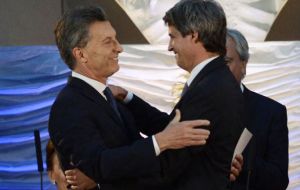 Argentina marked a spectacular comeback to world money markets on Monday when its first bond issue in fifteen years attracted bids more than three times reaching US$ 67 billion. Argentina is after US$ 15bn which will help pay creditors on its ongoing litigation, since the country defaulted back in 2001.
The surge of demand for the bond, which will price on Tuesday, allowed Argentina to set pricing guidance close to its optimistic funding costs for the ground-breaking deal. Litigant bondholders who rejected the terms of Argentina's debt restructuring and filed suit for a better payoff will have first dibs on the proceeds of the transaction.
The holdouts, led by US hedge funds Elliott Management and Aurelius Capital, will get about 75% of what they had claimed under the agreement. Meanwhile Argentina gets to draw a line under the messy litigation and re-open the capital taps to help fund his ambitious overhaul of Latin America's third-largest economy.
The sovereign was able to tighten pricing significantly across most of the four-tranche bond on the back of the order book, one of the largest ever seen for an emerging markets bond.
It set guidance of 7.5%-7.625% on the 10-year tranche - the centerpiece of the offering - in from initial price thoughts of 8% area that were given to investors. The yield on the 30-year tightened at guidance to 8% from initial thoughts of 85bp over the 10-year's yield.
At the short end of the curve, guidance on the three-year was set at 6.25%-6.50% and on the five-year at 6.875%-7.125%.
Deutsche Bank, HSBC, JP Morgan and Santander are acting as global coordinators on the bond sale, while BBVA, Citigroup and UBS are joint book/runners.