UK private helicopter company begins Falklands' around the clock air operations
Thursday, April 21st 2016 - 10:41 UTC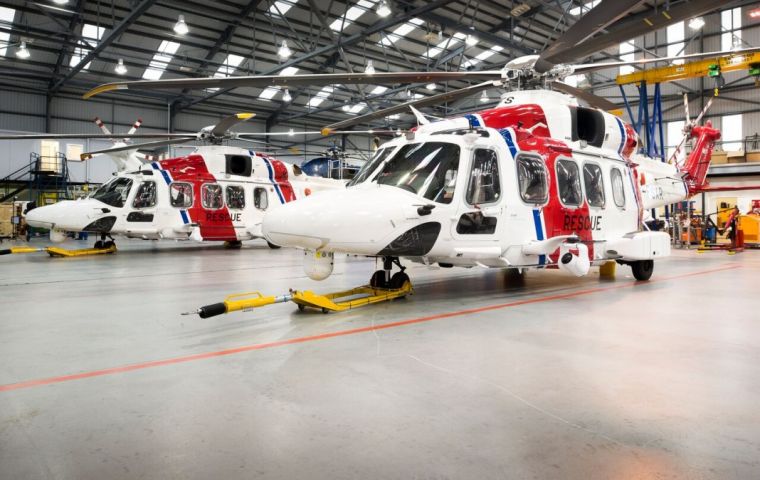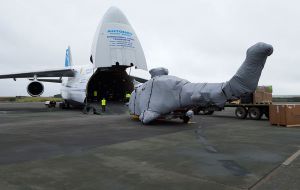 British International Helicopters (BIH) has begun flight operations in the Falkland Islands, working alongside Britain's military forces in the region to provide a range of vital air support services. Following the award of a ten-year, £180 million contract last year, Britain's largest UK-owned helicopter operator will undertake a range of assignments including around the clock, all-weather search and rescue, helicopter emergency services, rescue hoist operations, and passenger and cargo transfers.
Two new AW189 helicopters customized by Finmeccanica were sourced to meet the requirements set out by the UK Ministry of Defense for the search and rescue operation, and will be deployed alongside BIH's existing Sikorsky S-61N support craft.
The new helicopters were prepared at BIH's Newquay base and transported to the Falklands on a giant Antonov AN124, the largest aircraft ever to land at Newquay.
Under the terms of the Ministry of Defense contract – delivered in partnership with AAR Airlift Group and Air Rescue Systems (ARS) – BIH's Falklands team is providing a full range of flight operations, maintenance, logistics and facilities support from the MOD's military base at Mount Pleasant.
Sir Peter Rigby, founder of BIH's owner, Rigby Group, said: "This is a proud moment for British International Helicopters. The Falkland Islands assignment is a challenging one, demanding the very best from both craft and crew, and there are not many operators with the capabilities required to deliver it.
"That our crews should be the ones selected to fly alongside and meet the exacting standards of the Royal Air Force is testament not only to their skill, but also to BIH's reputation as a trusted military and commercial partner."
Paul Southall, MD at BIH, added: "Although BIH has been operating alongside Britain's forces in both the Falklands and the UK for many years, the commencement of this latest contract underlines the extent of our capabilities in the offshore and military sectors."
BIH also operates and supplies helicopter support for the Ministry of Defense in the Plymouth sea training areas from its Newquay base.