Russian ban on EU food imports turns European farmers' fury against Mercosur accord
Wednesday, April 27th 2016 - 05:32 UTC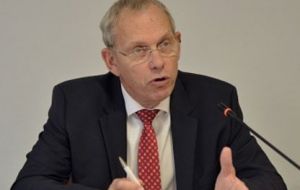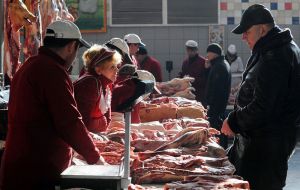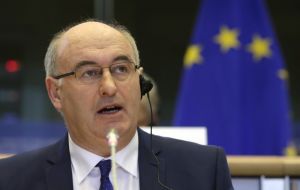 Brussels must do more to help producers ride out the slump in agricultural commodity prices, European farm leaders have warned. Immediate solutions were needed to tackle the "unprecedented" crisis that had hit agricultural markets, said European farm umbrella organization Copa-Cogeca.
"The situation is not sustainable," said Copa president Martin Merrild. "Measures agreed by the EU to improve the situation have had little effect."
The market – especially for beef, pork and dairy – was continuing to worsen, fuelled by the Russian ban on EU farm exports, said Mr Merrild. Pork prices were lower that they were 11 years ago, he added.
"It is unacceptable that farmers are paying the price of the political dispute with Russia. Re-opening this market is a priority.
"Farmers and agricultural co-operatives are also more exposed to market forces. They need access to market data so they can plan ahead and hedge against risks".
Merrild said he was concerned that the EU Commission was moving ahead with opening up the EU market to imports from the trade bloc Mercosur.
Beef imports that failed to meet the EU's high environmental and quality standards would have a "catastrophic" effect, he said.
Copa-Cogeca is calling on Brussels to step up action to find new markets and boost promotion measures for a range of EU farm products.
"In the future, we need a CAP that is common in all member states and ensures our competitiveness. The current CAP is incapable of this," said Merrild. "There's something definitely wrong when the price of milk is lower than the price of water."
Cogeca president Thomas Magnusson said it was important that farmers received a better return from the market and were not squeezed unfairly by the food chain.
The European Investment Bank needed to start delivering the right financial instruments to help farmers invest in their businesses and improve competitiveness, he said.
"Farm co-operatives can help farmers get a better price for their produce and can assist them on new innovative techniques, but they need the support to ensure this.
"Immediate solutions from the EU must be found to tackle this unprecedented crisis that has been hitting farmers and farm co-operatives for years. They are vital not only to solve hunger and malnutrition, but also to maintain attractive rural areas and biodiversity."
Brussels insists it is doing all it can to help ease the price pain felt by farmers.
In March, it announced 13 measures aimed at helping growers and livestock producers through the crisis, with a special focus on the dairy, pig/meat, fruit and vegetable sectors.
EU farm commissioner Phil Hogan said: "The commission has mobilized more than €1bn over two years, including the €500m support package from September 2015.
"We stand by our farmers and provide – through the daily implementation of the CAP and the use of exceptional measures – full support and assistance to safeguard our agricultural model."
The measures activated were "highly adjustable" so member states could use them to the best of their capacities depending on their specific national situation.
The package of measures was followed by a trade mission to China and Japan, where Hogan visited Shanghai, Beijing and Tokyo to help facilitate agri-food trade.
The visit to Japan ended with a G7 meeting of agriculture ministers in Niigata. It followed the introduction of new promotion rules for EU agricultural products, which provide an increased budget for promotion and a simpler application system.
"China and Japan are particularly important markets for the EU agri-food sector, which have shown considerable growth in recent years," said Hogan.