Amnesty said killings in Rio's favelas have increased alarmingly ahead of Olympics
Thursday, April 28th 2016 - 07:27 UTC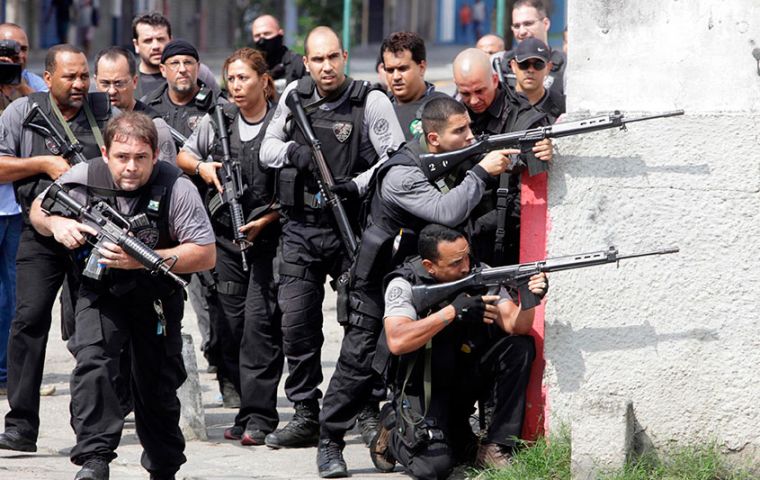 Amnesty International said on Wednesday that residents of Olympic host Rio de Janeiro's slum favelas are "living in terror" after 11 people were killed in police shootings in the past month. The rights group said at least 307 people were killed by police in the city last year and called on Brazilian authorities to take action in the 100 days ahead of the start of the Rio Games on August 5.
Victims of police killings account for one in every five homicides in the Olympic city, according to Amnesty.
"Residents in many of Rio de Janeiro's favelas are living in terror after at least 11 people have been killed in police shootings since the beginning of the month," the group said.
Authorities "have increasingly taken a hard-line approach against mainly peaceful street protests," said an Amnesty statement.
"Despite the promised legacy of a safe city for hosting the Olympic Games, killings by the police have been steadily increasing over the past few years in Rio," said Atila Roque, head of Amnesty International Brazil.
"Many have been severely injured by rubber bullets, stun grenades and even firearms used by police forces during protests," Roque added.
According to Amnesty figures, Rio state police killed 580 people in 2014 when the country hosted the World Cup. That figure was up 40% on 2013 and has since risen to 645 in 2015.
Amnesty said "it is not possible to link this rise in police killings directly to the preparations for the Olympic Games" but added "the statistics reveal a clear pattern of excessive use of force, violence and impunity that taints public security institutions."