China plans to track moon spacecrafts from its station in Argentine Patagonia
Thursday, April 28th 2016 - 12:05 UTC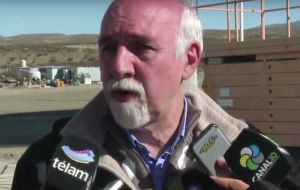 In March next year, China's space and satellite tracking station in Quintuco, Argentine Patagonia will become operational, according to members from China's Space Agency, CLTC, who advanced that in June scientists will be mounting the station's antenna to explore outer space.
Yu Xueming, who is responsible for the project made the announcement to a group of visiting Argentine and foreign journalists and members of Neuquen province ministers, and emphasized that the base which is only for peaceful purposes, hopefully "will help track spacecrafts China is planning to send to the moon next year.
The complex in the province of Neuquén close to the Andes cordillera, the first time is was opened to the media, has four main structures, one of them the 35 diameter base for the future antenna to keep contact with the spacecrafts that will be travelling 380.000 kilometers to the moon and retransmit them to Beijing.
Another structure is a US$ 10 million power plant to supply all the energy needed and that will also provide surrounding rural areas. The third building is where the antenna will be assembled, and basically become the command center.
Finally is the structure to lodge scientists and staff, and other accommodations, such as conference rooms and leisure facilities. Scientific tourism is also contemplated in the building.
An Argentine company is responsible for the construction of the complex with a US$ 70 million budget and 300 workers, said the Chinese official.
"We're also planning to have spacecrafts circumvent the moon, land and return to Earth. This is clearly civilian, with no possible military use. The antenna only rotates at a very low speed to cover great distances and in no way can be used for military actions", underlined Yu Xueming.
Neuquen secretary Rodolfo Laffite pointed out that the province "leased 200 hectares to the Argentine Commission of Space Activities, CONAE, as part of the raft of agreements signed between Argentina and China".
Laffite also affirmed that Argentina and Neuquen will share the knowledge of space research "since CONAE is partner in the exploration and investigation activities with China's space agency"
The provincial secretary also underlined the economic impact of the space tracking station which will be open for 'scientific tourism'.
Finally Laffite and Yu Xueming made it a point to underline that the Quintuco station is not military intended because the antenna is only useful for communications at large distances in outer space.