UK embassy in Montevideo celebrates the Queen's birthday and Shakespeare 400th anniversary
Friday, April 29th 2016 - 18:09 UTC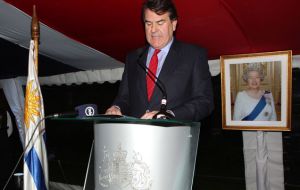 The UK embassy in Montevideo celebrated the 90th anniversary of Queen Elizabeth at ambassador Ben Lyster-Binns residence on Thursday 28 with the attendance of 500 guests including Uruguayan government officials, lawmakers, diplomats, media and members of the British community in Uruguay.
The event this year was not only regal but also cultural since the world commemorates the 400th anniversary of the death of William Shakespeare, and to that effect the Uruguayan post office made the official release of a set of stamps dedicated to the great play writer. Videos were also displayed by the British Council as part of the world celebrations campaign "Shakespeare Lives". Videos and pictures celebrating the ninety years of the Queen were also exhibited.
Ambassador Lyster-Binns in his speech underlined the closer links between Uruguay and the UK during the last twelve months, which included several programs such as the Science and Innovation Fund; the Chevening scholarships, with 30 Uruguayan students in UK universities; the successful participation at the Prado Agriculture Show, with a Britain pavilion that sponsored business contacts and showed modern Britain. The ambassador also thanked the private sponsors of the celebration, Anglo, AIVA, BG, British Council, Burberry, Deicas, Diageo, HSBC, PWC and Tullow.
Music had a paramount place during the celebration: guests were received with a piano player offering an ample repertoire of modern British songs followed by DJ Paula Drexler and the Rapsodia choir which last February sang next to the Rolling Stones in the Centenario Stadium. For the occasion they interpreted both national hymns and a potpourri of British music.

Guests were treated with typical UK food including some which are a blend of the many cultures represented by the UK such as curry, a popular dish in India, which has become a national treat in Britain.
The Queen's official birthday is the UK's National Day and is celebrated in all British embassies in April or June. As tradition marks the official birthday festivity will take place next June with the Trooping the Color and Royal Guards parade, and other events since this is a special anniversary.