St Helena postpones official opening of the new airport
Monday, May 2nd 2016 - 20:11 UTC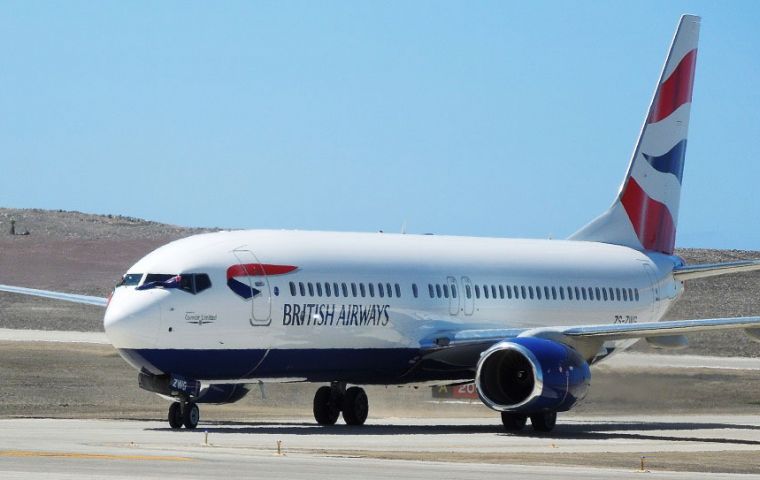 The St. Helena Government confirms that further safety and operational work is required prior to the Official Opening of the Island's new Airport – and that this event has therefore been postponed. While this means that the Airport will not officially open on 21 May 2016 as originally planned, the safety of aircraft and passengers is of course paramount.(MP, 15 and 19 April).
Last week the Island's Air Service Provider, (British Airways) Comair, brought a Boeing 737-800 aircraft to St Helena on an 'Implementation Flight'. The crew was able to gather real time information on the conditions at St Helena's new Airport to assist in preparations for the commencement of scheduled air services. The objectives of the Implementation Flight included route assessment, airside operations, passenger and cargo handling, training and various aspects of safety at St Helena Airport.
One outcome of the Implementation Flight has been the gathering of additional data on turbulence and wind/shear on the approach to Runway 20 (from the North). As a result of the data gathered and the conditions experienced, it has been decided that there is some additional work to be done in order to ensure the safe operation of scheduled passenger flights to and from St Helena Airport.
Wind-shear refers to a change in wind speed or direction, including a rapid change over a short distance. Difficult wind conditions, including turbulence and wind-shear, are encountered and safely managed at many airports around the world.
All parties are now working hard to get a better understanding of how wind shear conditions can be mitigated at St Helena Airport – assessing what measures need to be taken to ensure the safety of incoming aircraft landing on Runway 20. Everyone involved remains committed to commencing commercial flights to and from St Helena at the earliest possible opportunity.
SHG – working with all parties – has taken the decision to postpone the planned Official Opening Ceremony until a solution is found to manage this important safety issue. The Official Opening of St Helena Airport will now take place at a later date which has yet to be determined.
The airport project took off in November 2011, when the St Helena Government signed a Design, Build and Operate (DBO) contract with Basil Read (Pty) Ltd. The contract included £201.5 million for the design and construction of the airport, an additional amount - of up to - £10 million on shared risk contingency and £35.1 million for ten years of operation.