Temer calls on Brazil to rally behind the "national salvation" government
Friday, May 13th 2016 - 06:46 UTC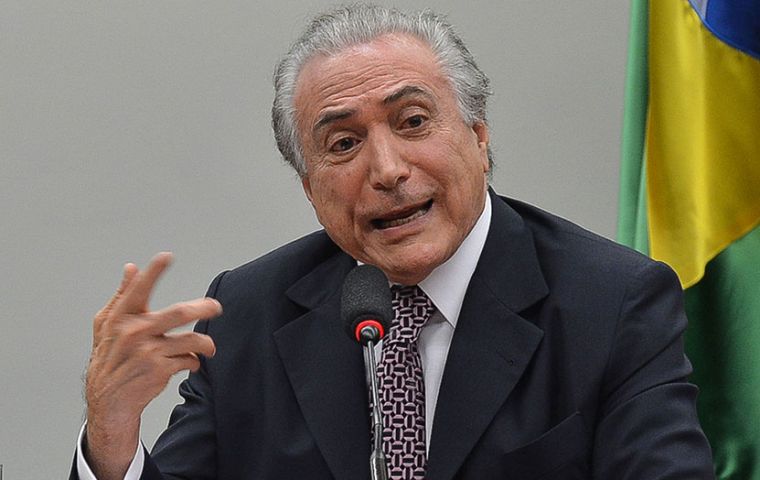 Brazil's acting President Michel Temer called on his country to rally behind his government of "national salvation" hours after the Senate voted to suspend and put on trial his populist predecessor, Dilma Rousseff, for breaking budget laws.
Temer, a 75-year-old centrist now moving to steer Latin America's biggest country toward more market-friendly policies, told Brazilians to have "confidence" they would overcome an ongoing crisis sparked by a deep economic recession, political volatility and a sprawling corruption scandal.
"It is urgent we calm the nation and unite Brazil," he said, after a signing ceremony for his incoming cabinet. "Political parties, leaders, organizations and the Brazilian people will cooperate to pull the country from this grave crisis."
Brazil's crisis brought a dramatic end to the 13-year rule of the Workers Party, which rode a wave of populist sentiment that swept South America starting around 2000 and enabled a generation of populist leaders to leverage a boom in the region's commodity exports to pursue ambitious and transformative social policies.
But Rousseff soon discovered that the party, after four consecutive terms, overstayed its welcome, especially as commodities prices plummeted and her increasingly unpopular government failed to sustain economic growth. In addition to the downturn, Rousseff, in office since 2011, was hobbled by the corruption scandal and a political opposition determined to oust her.
After Rousseff's suspension, Temer charged his new ministers with enacting business-friendly policies while maintaining the still-popular social programs that were the hallmark of the Workers Party. In a sign of slimmer times, the cabinet has 23 ministers, a third fewer than Rousseff's.
A constitutional scholar who spent decades in Brazil's Congress, Temer faces the momentous challenge of hauling Latin America's largest economy out of its worst recession since the Great Depression and cutting bloated public spending.
He quickly named respected former central bank governor Henrique Meirelles as his finance minister, with a mandate to overhaul the costly pension system.