Argentina's economy grows 0.8% during first quarter says Central bank
Monday, May 16th 2016 - 07:25 UTC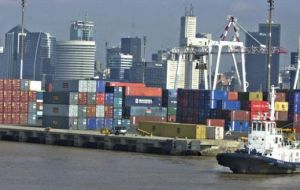 Argentina's economy grew 0.8% on the first quarter of the year compared to the same period last year, Central Bank Governor Federico Sturzenegger said, declaring that since President Mauricio Macri took office employment has remained "stable."
The bank published a monetary policy report, including an index to review Argentina's GDP, done based on reports from 18 private consultancies and business chambers. There's no official GDP data for 2016 yet as the INDEC official statistics bureau (dismantled during the previous government) is reviewing the country's statistical procedures.
"There wasn't much variation from what was going on with the economy over the last few years. There are mixed signals in the economy. Consumption is falling but investment is growing. Sectors like construction aren't growing but export levels are much better," Sturzenegger said. "We have high hopes for the second half of the year."
The Central Bank's forecast disagrees with reports from international credit agencies and organizations, which showed a negative outlook for Argentina's economy this year. Moody's said GDP will decline 1.5% due to "economic unbalances," while the International Monetary Fund forecasted a one percentage point drop.
But that's not the case for 2017, as all forecasts agree on a better outlook for Argentina. Sturzenegger also anticipated "steep" economic growth.
"Imports are on the rise, which means we'll soon see a recovery of the industrial sector. That's also the case for agricultural production, as the wheat harvest is estimated to be 25% larger. The livestock sector is expected to grow a lot as well," the Central Bank chief said. "There are several positive signals."
The monetary policy report also reviewed the labor scenario, based on data from the Orlando Ferreres consultancy due to the lack of information from INDEC. The number of private registered workers has remained stable since Macri took office, the report said, not including state or unregistered workers.
"The labor market hasn't changed its trend, with no jobs created in the private sector since 2011," he said.
There are no official figures of the current level of unemployment as the INDEC statistics bureau stopped reporting labor data last year, claiming back then the figure was at 5.9%. However the CTA union said 68,000 jobs were lost and the CEPA economists centre said the figure actually approaches 141,000 layoffs.