Siemens and Spain's Gamesa merge to create global wind energy giant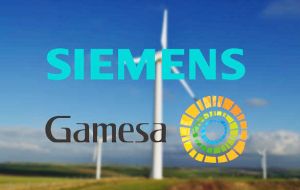 German industrial megalith Siemens and Spanish wind energy giant Gamesa have announced they will merge their wind energy businesses. Gamesa and Siemens announced Friday that they have signed binding agreements to merge Siemens' wind business with Gamesa, to create a leading global wind power player.
According to recent figures by Navigant Research, Siemens and Gamesa were the fourth and fifth wind turbine suppliers in the world, with 7.7% and 5.5% respectively.
The new business, which is billed as "highly complementary" in terms of existing market share, products, and technology, will see Siemens hold a 59% stake, and consolidate the merged company and existing Gamesa shareholders to hold the remaining 41%. In return, existing Gamesa shareholders will receive a cash payment of €3.75 per share funded by Siemens, 26% of Gamesa's unaffected share price at market close on January 28, 2016.
The resultant company is predicted to see EBIT synergies of around €230 million.
"The merger with Siemens constitutes recognition for the work performed by the company in recent years and evidences our commitment to generating value in the long term by creating significant synergies and extending the horizon of our profitable growth," said Ignacio Martín, Executive Chairman and CEO of Gamesa.
"Today, we are embarking on a new era, creating, alongside Siemens, a world-leading wind player. We will continue to work as before, albeit as part of a stronger company and with an enhanced ability to offer all of our customers end-to-end solutions."
"The combination of our wind business with Gamesa follows a clear and compelling industrial logic in an attractive growth industry, in which scale is a key to making renewable energy more cost-effective," added Joe Kaeser, President and CEO of Siemens AG.
"With this business combination, we can provide even greater opportunities to the customers and value to the shareholders of the new company. The combined business will fit right into our Siemens Vision 2020 and underlines our commitment to affordable, reliable and sustainable energy supply."
The new company has a 69 GW installed base worldwide, an order backlog of approximately €20 billion, revenue of €9.3 billion, and an adjusted EBIT of €839 million. The company's onshore headquarters will remain in Spain (where Gamesa was headquartered), while its offshore headquarters will reside in Hamburg, Germany, and Vejle, Denmark (where Siemens was headquartered).
Siemens wind power business is known for its strong presence across North America and Northern Europe, while Gamesa is well-positioned in emerging markets, and in Southern Europe.
"As a leading wind power player especially in emerging markets, Gamesa is a perfect partner for us," said Lisa Davis, member of the Managing Board of Siemens AG. "Teaming up will enable Siemens and Gamesa to offer a much broader range of products, services and solutions to meet customer requirements. The move will put Siemens and Gamesa in the best position to shape the industry for lower cost of renewable energy to the consumers."