Uruguayan government insists in transferring Mercosur presidency to Venezuela
Friday, July 8th 2016 - 04:56 UTC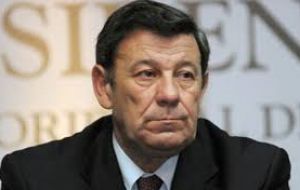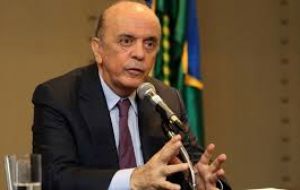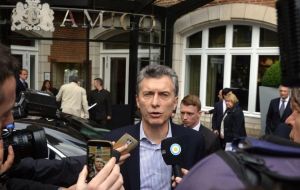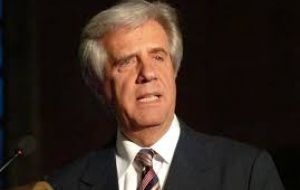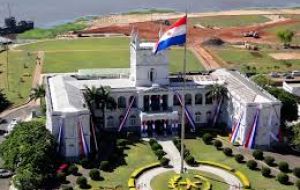 Uruguay ratified on Thursday its willingness to transfer the Mercosur presidency to Venezuela despite objections from the other members, Brazil, Paraguay and Argentina. In a brief statement in its official site, the Ministry of Foreign Affairs said that Uruguay, currently holding the Mercosur pro tempore chair "reiterates its position to proceed to transfer the presidency, in abidance with what is established by the current Mercosur rules".
Under the invoked rules, the Mercosur chair is transferred every six months to members based on alphabetical order, which means Venezuela follows on Uruguay, and this should have happened at the end of June or during this month, but the rest of the members disagree.
In Paraguay both the Executive and Legislative are point blank against such transfer since the presidency of Mercosur should rest in a country that is at peace, respectful of human rights and the media, and not involved in threatening to close down the National Assembly under an opposition majority.
In Brazil, interim president Michel Temer has no sympathy for the "ideological" Mercosur (sponsored by her suspended predecessor Dilma Rousseff and her political mentor Lula da Silva), or for the Venezuelan government of president Nicolas Maduro, which it considers has a deep disregard for democratic institutions, human rights, and its economic incompetence is starving its population.
However when foreign minister Jose Serra visited Montevideo earlier this week, Brazil avoided the institutional controversy and pointed its guns to the fact that Venezuela, which became a full member of Mercosur in 2012, has yet to comply with all the protocols and schemes of the group, and which it promised to fulfill.
Thus Serra officially requested the chair, Uruguay, to postpone the transfer until mid August. The legal technicality could become source of strong litigation. At the media conference following the meeting with Uruguayan officials, only Serra spoke.
Finally Argentina, with foreign minister Susana Malcorra bidding for the UN seat of Ban Ki/moon at the end of the year is treading on a minefield, since Venezuela not only is a non permanent member of the Security Council, but has strong backing given its oil generosity when it enjoyed an abundance of dollars. She had to convince president Mauricio Macri to downgrade the level of its condemnation of the Venezuela government, while hoping for some sort of effective dialogue between Maduro and the opposition.
However Macri in his current overseas visit to Europe was quoted by the Spanish media arguing that the Venezuelan government has violated all human rights, and has led the Venezuelan population to starvation and abandonment, and that is why "they need a recall referendum, they need to hold elections as soon as possible".
Later in Brussels, where he lobbied strongly for speeding the Mercosur/EU trade talks, Macri was quoted affirming: "we will be presiding Mercosur in the months ahead".
However this Thursday the Argentine foreign ministry aired a brief release in its website congratulating the fact that the Venezuela opposition and government have finally accepted to begin a national dialogue, starting 12 July, under the sponsoring of facilitators. The facilitators are ex Socialist presidents from Spain, Dominican Republic and Panama.
In moments of great concern for the Venezuelan people, Argentina calls on both sides to extreme efforts ahead of any attitude that could put at risk dialogue. Argentina reiterates its willingness to collaborate with this or any other constructive initiative in favor of an effective dialogue which promotes political stability; social and economic recovery; abidance of the constitution and respect for human rights.
Uruguay also has its own internal problems. Foreign minister Rodolfo Nin Novoa refers to Venezuela as an "authoritarian democracy", but which has not ruptured institutions or disregarded the constitution, thus Venezuela is entitled to be transferred the presidency. But Uruguay is ruled by a coalition, in which its radical half are close friends and admirers of the Chavism path to a Socialist nation and blame foreign forces, US imperialism, bourgeois conspiracies for all of Venezuela's problems.
And president Tabare Vazquez needs all their votes to approve higher taxes, cuts in social expenditure and deferment in promised education and health care investments in an attempt to finance an over bloated budget which threatens the financial stability of the country with inflation and a contracting economy.
No wonder then that the second paragraph of the Uruguayan ministry brief release, which does not carry the signature of Nin Novoa, after a first dissenting lines, states in a conciliatory tone that "in compliance with the inherent responsibilities of its post and taking into account the existing differences, we will work to analyze and finds paths of encounter which through respectful and deep dialogue, help overcome the important problems currently faced by the process of regional integration.
When Serra visited Montevideo, it was finally agreed that foreign ministers from the four countries will be meeting again in Uruguay next Monday to decide or advance on the Venezuelan issue. This latest release from Uruguay could be torpedoing the meeting or the government of Uruguay is asking for more time to overcome its very serious internal divisions.