May pledges to work "for all not just the privileged few"; Johnson foreign secretary and Hammond chancellor
Thursday, July 14th 2016 - 03:54 UTC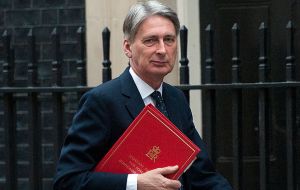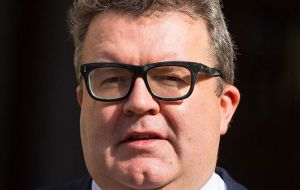 New Prime Minister Theresa May has made Boris Johnson, the former London mayor who led the Brexit campaign, foreign secretary in her new government. He replaces Philip Hammond, who becomes chancellor and ex-Energy Secretary Amber Rudd is home secretary and Euro skeptic David Davis is the Brexit secretary. Ex-chancellor George Osborne was not included apparently because his "brand" was seen as "too tarnished".
On arriving at Downing Street after being appointed by the Queen, Mrs. May vowed to lead a government that works for all, not just the "privileged few". The UK's second female prime minister promised to give people who were "just managing" and "working around the clock" more control over their lives.
Downing Street said she took a number of "congratulatory phone calls" from other European leaders on Wednesday evening, where she told them "some time" would be needed to prepare for EU exit talks.
In her appointments announced so far, Michael Fallon continues as defense secretary, and Liam Fox, who resigned as defense secretary in 2011, has a new role as secretary of state for international trade.
Mrs. May has spoken of the need to reunite the Conservative Party after the EU referendum, in which she backed a Remain vote. Her new line-up includes big jobs for prominent Leave campaigners Johnson - who was initially tipped as the next prime minister after the Brexit vote - Fox, and Davis, whose job title is "secretary of state for exiting
Mrs. May's husband Philip was standing behind her as she made her first public speech in the role, saying that the Conservative party is also the Unionist party, and highlighting the "precious bond" between England, Scotland, Wales and Northern Ireland, and between "every one of us".
"That means fighting against the burning injustice that if you're born poor you will die on average nine years earlier than others," she said. For an "ordinary working class family", she added, "life is much harder than many people in Westminster realize".
Speaking directly to people who were "just managing", she said: "The government I lead will be driven, not by the interests of the privileged few, but by yours. We will do everything we can to give you more control over your lives.
"When we take the big calls, we'll think not of the powerful, but you.
"When we pass new laws, we'll listen not to the mighty, but to you. When it comes to taxes, we'll prioritize not the wealthy, but you.
When it comes to opportunity, we won't entrench the advantages of the fortunate few, we will do everything we can to help anybody, whatever your background, to go as far as your talents will take you."
She also paid tribute to her predecessor, David Cameron, saying he had been a "great, modern prime minister".
In his farewell statement outside Downing Street, Cameron said Mrs. May would provide "strong and stable leadership" and wished her well in her negotiations on Britain's exit from the EU.
Like Mr. Cameron, Mrs. May campaigned to remain in the EU but has said she will respect the will of the people, as expressed in 23 June's referendum, saying: "Brexit means Brexit".
Labor's deputy leader, Tom Watson, offered his congratulations to Mrs. May but warned she would have to deal with the "enormous economic uncertainty and insecurity" caused by leaving the EU.
He said: "We've today had warm words from our new prime minister about the need to stand up for more than a 'privileged few. The sentiments are good ones but just like her predecessor the rhetoric is much better than the reality."
Boris Johnson said he was "very humbled" to be appointed foreign secretary, and praised PM May for making a "wonderful speech", saying there was a "massive opportunity in this country to make a great success of our new relationship with Europe and with the world".
However Lib Dem leader Tim Farron predicted Johnson would "spend more time apologizing to nations he's offended" than working as foreign secretary.