Falkland Islands' portfolio for Sir Alan Duncan
Monday, July 25th 2016 - 10:17 UTC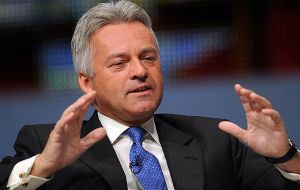 Alan Duncan KCMG MP has been appointed as Minister of State at the Foreign Office, responsible for Europe and the Americas. He replaces Hugo Swire MP, and will report to the new Foreign Secretary, Boris Johnson. Sir Alan (59) remit will include NATO, the Americas, the Falklands, Gibraltar and polar regions.
He has represented the constituency of Rutland and Melton since 1992. Between 2010 and 2014, he was Minister of State for International Development. He held a long list of shadow cabinet jobs during previous Labour governments.
Sir Alan is a graduate of Harvard and Oxford Universities and worked in the oil business for many years.
Since 2014 he has served as a backbench MP on the Intelligence and Security Committee and as the UK's Special Envoy to Yemen.
He was the first openly gay Conservative member of Parliament, coming out in 2002, and the first on the Tory benches to enter into a same-sex civil partnership.
The new FCO minister of state is not the only gay MP to be given a job in May's Cabinet. Justine Greening, who admitted she was in same-sex relationship in the wake of the referendum on the EU, has been appointed education secretary.
Since then he has served as a backbench MP on the Intelligence and Security Committee and as the UK's Special Envoy to Yemen.
Sir Alan said: "I am delighted to have been appointed as Foreign Office Minister at such a crucial time. I look forward to getting stuck into the role and serving from the frontbench once again".
Rt Hon Baroness Anelay of St Johns is the new Minister of State for the Commonwealth and the UN, including Overseas Territories (but excluding Falklands and Gibraltar).
Meanwhile Hugo Swire MP for East Devon has left the ranks of the government. As he put it on Twitter, it was no longer a good time to be a 'Cameroon' - a pal of David Cameron.
Mr. Swire announced his departure on the social network Twitter with an image of the Looney Tunes cartoon farewell message: 'That's all Folks!'. His actual words on Twitter were: "Not a good time to be a Cameroon. The tumbrils are rolling again!"
Mr Swire backed Mrs. May for the Tory leadership and previously served as her Parliamentary Private Secretary when she was chairman of the Conservative Party.
"I am retiring to the backbenches to join my friends. It's been an honour and a privilege to have served as a Minister in the Government since 2010", concluded Swire's message.