Del Potro carries his memories of London's bronze into Rio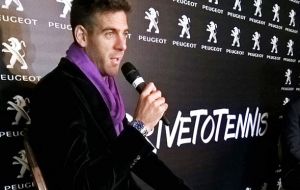 In his comeback year, the Argentine tennis star wants to relive the unique Olympic experience, but is aware that this time around he is not in his best form. A tale that started in London 2012, took two breaks to undergo wrist surgery, recharged batteries at Wimbledon less than a month ago, picked up some bonus energy in Italy, now goes to Rio and then back to Britain.
The 2012 Olympic tennis bronze medallist Juan Martín del Potro of Argentina is heading for the Rio de Janeiro 2016 Games on a wing and a prayer: that even more top-ranked players decide to forego the event. "It'd be great if 60 more of them kept dropping out so I can win a medal," he said on Friday in visible jest at a press conference in Buenos Aires.
He explained that "not being a seeded player you need a bit of luck at the draw, but in the end, my game being how it is, winning will always be up to me." Still, he agreed that "yes, a little bit of help from 'above' to have an easier road in the opening phase is always welcome." He added that in view of his physical condition, "my preparation today has more to do with health issues and prevention than with training itself."
Asked whether not being a first choice candidate eases the pressure off him, Del Potro explained that "once you get past the early stages and you start competing for a medal, mental and physical factors and also experience come into play and mind games can bring you down regardless of your form. And that's where I can make a difference now."
One of the main absentees at Rio will be Roger Federer. "I wanted my revenge," joked Del Potro in reference to the marathonic semifinal in London 2012, which the Swiss star won 3-6, 7-6 (5), 19-17 after four hours and 26 minutes. "Losing that match made me feel it was the worst week of my life."
But the underdog for the third-place playoff, Del Potro eventually snatched the bronze from Novak Djokovic. "I remember telling myself 'this is for a medal too, doesn't matter which medal'," Del Potro reminisced. "It was a relief."
The Rio de Janeiro Games have also raised security concerns worldwide. "We hope the entire city of Rio will be a safe place, because apart from us, our nearest and dearest will be outside (the Olympic village)," Del Potro said on Friday. "We trust the organisers will be up to the circumstances and the less we need to worry about those issues the more we can enjoy our sports."
Del Potro, arguably the most famous person ever born in Tandil, even more than Argentina's President Mauricio Macri, admitted that "After the London experience I couldn't miss Rio. You never know how many Olympic Games you will get to play."
During the current tennis season, Del Potro has beaten world number five Stan Wawrinka at Wimbledon and helped Argentina move past Italy with a doubles victory to reach the Davis Cup semifinals against Great Britain in September. "I've already told (team captain Daniel) Orsanic that I also want to be on his plans for the singles rubbers," he stressed.