Temer inaugurates much delayed metro line in Rio to the Olympic events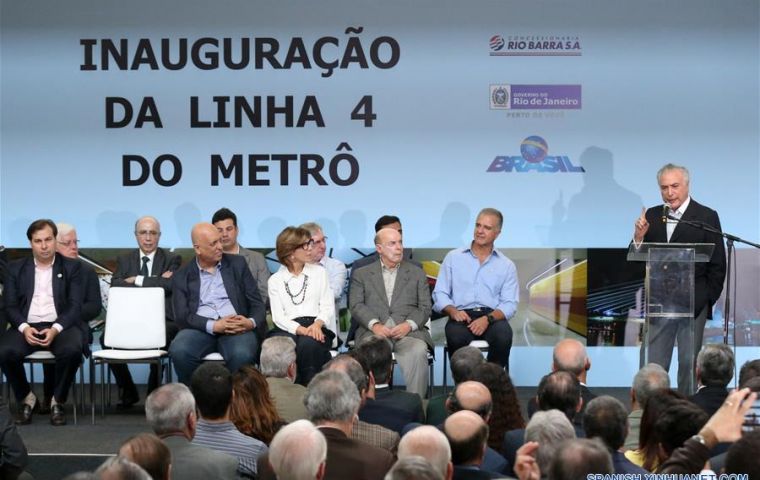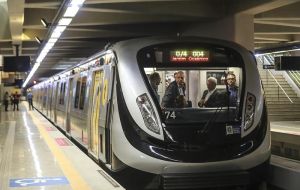 Brazilian interim President Michel Temer on Saturday inaugurated a new Rio de Janeiro metro line that runs from Barra da Tijuca, the neighborhood that is home to most of the Olympic venues, to the city's southern tourist zone.
The new Line 4, built by Concessionaria Rio Barra S.A. as part of a public-private partnership, stretches for 16 kilometers from Barra to the emblematic neighborhood of Ipanema, has six stations and is expected to provide service to more than 300,000 people when it commences normal operations on Sept. 19.
For now, it will only be available for use by fans with tickets to Olympic events scheduled for the same day they are riding the metro.
Temer inaugurated the line by riding the metro from the Nossa Senhora da Paz station in Ipanema to the Jardim Oceanico station in Barra, where he was welcomed by young musicians from the Social Action for Music of Brazil project.
The Olympic Games, whose opening ceremony is scheduled for August 5, have provided an opportunity "for improving all of Rio de Janeiro," Temer said in a speech.
The interim head of state, who began standing in for suspended President Dilma Rousseff in May when she was impeached for allegedly violating budget laws, added that the reforms carried out for the Games would be of immeasurable benefit for the city's population.
The metro-line project was built at a cost of 9.7 billion reais (some US$3 billion), with the Rio de Janeiro state government providing 8.5 billion reais of the total and the rest coming from Concessionaria Rio Barra, which is made up of Brazilian engineering companies Queiroz Galvao, Odebrecht and Carioco Engenhria.