Venezuela defies Mercosur members and announces it will "fully exercise the presidency"
Thursday, August 4th 2016 - 21:52 UTC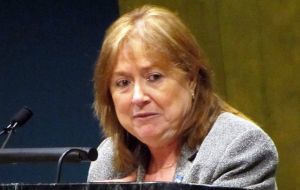 Venezuela has defiantly confirmed that is will fully exercise the "self-proclaimed" presidency of Mercosur, despite the opposition from Argentina, Brazil and Paraguay, who consider the chair vacant and are meeting in Montevideo to find an alternative for the six month mandate.
"We are presidents of Mercosur and will fully exercise that right" said Venezuelan president Nicolas Maduro in a mandatory national television message on Wednesday prime time.
Meantime in Uruguay, representatives from the four founding members of Mercosur, are considering naming a group of ambassadors from the four countries to collectively lead the organization until the end of the year when the chair has to be handed to Argentina, following alphabetical order.
The idea of the collective chair was proposed by Argentina and welcomed by Brazil and Paraguay. The arrangement would have each member appoint a coordinator in order for Mercosur to be extricated from its current crisis. Uruguay is playing a low profile since the country somehow triggered the situation when last Saturday at the end of its six month mandate turned in the chair, which was immediately self proclaimed by Venezuela.
This despite the fact that the other three founding members had insisted Uruguay continue with the chair for the next half year given the crucial trade talks with the European Union which have been conducted by Montevideo, and of which Venezuela is not part.
Criticism of Uruguay's decision was exposed in internal letters of Mercosur, later leaked to the media and which described Montevideo's attitude as "unprecedented", since there was no formal meeting of any of the group's structure such as the presidential summit or the Common Market Council which brings together foreign and finance ministers.
In Buenos Aires foreign ministry sources said that the idea was to "avoid an international scandal" and keep a united front as part of the Mercosur-EU free trade negotiations, as internal wrangling does not bode well for next chapters of the difficult negotiations that must be carried out with Brussels.
Regardless of the back and forth over the pro tempore presidency, Uruguay has been picked as coordinator for those negotiations as Venezuela is not part of the talks.
Despite Venezuela insisting as president of Mercosur is the only member entitled to convene an informal meeting, Argentina and Brazil argue that any of the group's members have such faculty as has happened. The chosen delegates for the informal meeting are members who normally work with the Common Market Council and their objective is attempting to recover the sufficient confidence among the countries to overcome the situation.
The Uruguayan government argues it followed the law and Mercosur rules and regulations, before handing the chair at the end of its six months, In effect it tried, unsuccessfully, by all means to reach a consensus on the matter. Brazil and Paraguay argue that Venezuela has yet to comply with the conditions agreed when it was accepted back in 2012, and also question its democratic credentials to such an extent that even Uruguayan foreign minister refers to the Maduro regime as an "authoritarian democracy"